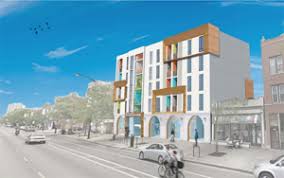 Thanks to Alderman Maldonado's Support
PRCC Acquires Properties to Develop Paseo Boricua Arts Centre; Belmont Bank Provides Financing
In a move that will initiate the implementation of the Puerto Rican Cultural Center's new 5-year strategic plan, the organization closed on the buildings which once served as the Ashland Sausage Company on Division Street. The acquisition of those properties is a major step in trying to commercially and culturally anchor our community as it faces the onslaught of an ever encroaching gentrification process which seeks to erase our historical memory from the Greater Humboldt Park community. These properties will be transformed into the Paseo Boricua Arts Centre: A development which will include the following: 14 live-work spaces for community artists; a 99 seat theater for performance arts and dramatic productions; a retail arts gallery business; and a Wines of Latin America/ Spirits of the Caribbean Piano Lounge. The project will definitely invigorate the financial development of the community, and will provide a place where artists can realize themselves both economically and creatively. It will truly foment a sense of place for our cultural workers.
Thanks to the support of 26th Ward Ald. Roberto Maldonado and to the financing by Belmont Bank, our community will be able to organically develop itself and continue to insure that ours will be an economically diverse, culturally vibrant community with a very strong Puerto Rican/Latino flavor and focus.
Division Street Business Development Association, and its Executive Director Eduardo Arocho will manage the initiative.