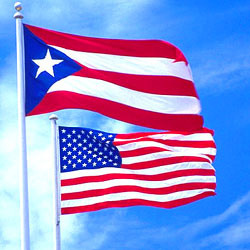 by DANICA COTO, Associated Press
SAN JUAN, PUERTO RICO – The U.S. Secretary of the Interior warned Friday during an official visit to Puerto Rico that the island's protected natural resources could be targeted for private development in a new push to lift the U.S. territory out of a dire economic crisis.
The comments by Secretary Sally Jewell come days after U.S. Republicans tucked a provision into a draft legislation addressing Puerto Rico's economy that would authorize the future secretary of the interior to open thousands of acres of protected Puerto Rico land to private development.
"I think we need to be very, very careful," Jewell told The Associated Press. "Giving up public lands or natural areas to development is not synonymous with economic growth and development."
Jewell questioned why the provision was included and said it does not address Puerto Rico's immediate economic challenges. She urged local officials to focus on further developing ecotourism projects to attract more visitors to the island and boost revenue amid a 10-year economic slump.