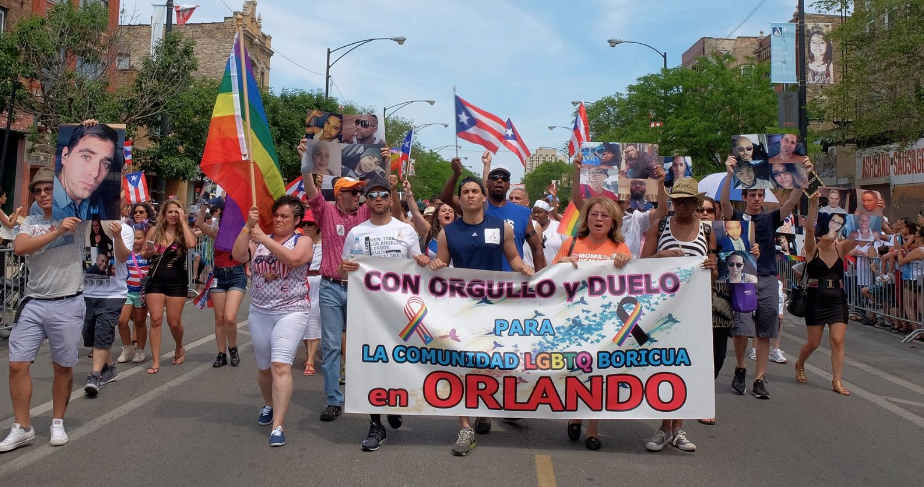 by Carrie Maxwell and Matt Simonette, Windy City Times
Puerto Rican Cultural Center-Vida/SIDA ( PRCC-Vida/SIDA ) honored the victims of the massacre at the LGBTQ Pulse Orlando Night Club & Ultra Lounge at the Puerto Rican People's Parade, June 18 in Humboldt Park.
Vida/SIDA marched behind a float carrying this year's Paseo Boricua Cacica Queen, Cynthia Lee Fontaine. Fontaine, a former Ru Paul Drag Race contestant, was crowned by PRCC-Vida/SIDA at the organization's 9th annual coronation ceremony the previous evening.
Openly gay 35th Ward Alderman Carlos Ramirez-Rosa, Democratic state Senate candidate Omar Aquino and Chicago Commission on Human Relations Commissioner Mona Noriega were among the 100 people marching with Vida/SIDA's contingent. They carried pictures of a number of the Puerto Rican victims of the Orlando massacre and chanted "Orlando" as they marched down Division Street.
"We're here today in unity and solidarity in expressing our love and support for the victims of the Orlando massacre," said Ramirez-Rosa. "Twenty-three of the victims were Puerto Rican and I think it's important to understand the majority of hate crimes committed against the LGBTQ community target people of color. In the face of this tragedy we aren't going to allow our community to be divided, nor the victims to be forgotten."
Photo by Carrie Maxwell
Parade participants remember Orlando
According to estimates, about 90 percent of the victims in the mass slaying at the Pulse nightclub in Orlando were Latino. Twenty-three of those murdered were Puerto Rican.
Juan Calderon, chief operating officer of the Puerto Rican Cultural Center of Chicago was blunt in saying, "We've never seen such a massacre."
Previous to Orlando, the worst massacre in Puerto Rican history, following Spanish imperial rule, took place in Ponce in March, 1937, when 19 protestors and two policemen were killed in a rally that left 200 wounded.
"When you look at the deaths in Orlando, it is a larger number," Calderon said.
"This was something we could not ignore," added Roberto Sanabria, who sits on the board of the Cultural Center.