Novelist Marisel Vera spoke with Illinois State Senator Cristina Pacione-Zayas (D-IL 20) about Vera's new novel, The Taste of Sugar (Liveright) during Taste of Chicago To-Go in Humboldt Park.
The outdoor event, "Taste of Chicago To-Go: Presents Puerto Rican Food, Coffee, and Storytelling," took place on July 9th at Humboldt Park's El Mercado del Pueblo (2559 W. Division St.) Nellie's Restaurant (2458 W. Division St.) served authentic Puerto Rican food inspired by the novel, The Taste of Sugar.
Unfolding during the US occupation of Puerto Rico in 1898 and the devastating Hurricane San Ciriaco of 1899, The Taste of Sugar follows Vicente Vega and Valentina Sánchez as they emigrate from Puerto Rico to Hawaii to work in the sugar plantations.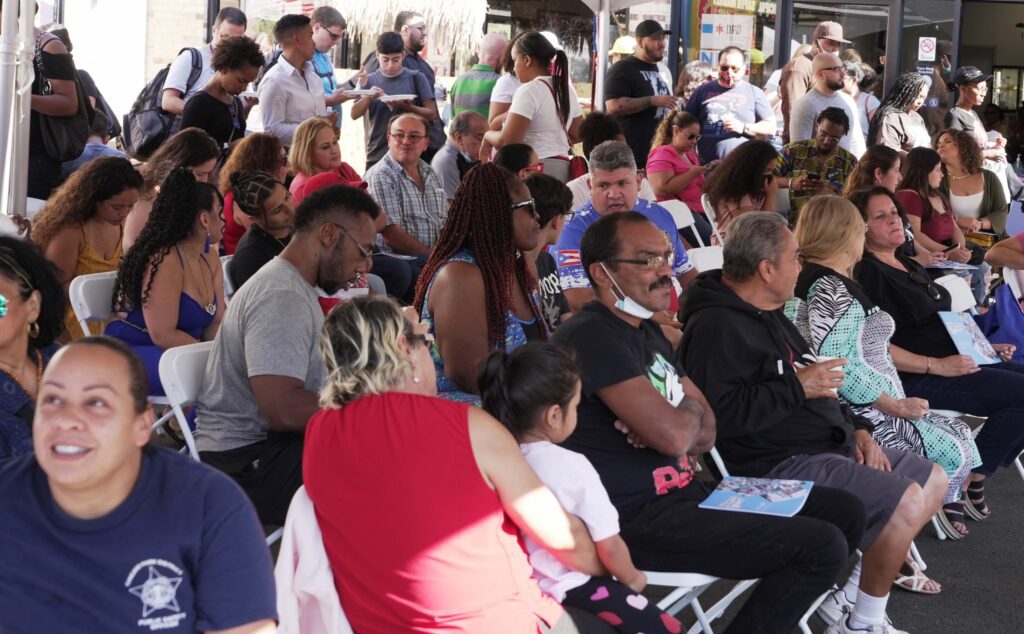 During her research for The Taste of Sugar, Vera learned that the five thousand Puerto Ricans who went to Hawaii were the first wave of Puerto Ricans to migrate under the American flag. Vera's parents were part of the second wave that left Puerto Rico during the 1950s Operation Bootstrap, the exodus sponsored by the Puerto Rican and American governments.
"A lot of Puerto Ricans, we don't know our history, that's what happens when you are a colony," said Vera. The Taste of Sugar, Vera told listeners, is also "a gift to my kids, my sisters, and to me. Because we didn't know where we came from." Vera, who, like Sen. Pacione-Zayas, supports the Puerto Rico Self-Determination Act of 2021, hopes that The Taste of Sugar will inspire readers to advocate for Puerto Rico's autonomy and decolonization.
"You have to know, I think, where you came from, in order to know where you are presently in the world and where you can go in the future," Vera said. "If you want to know why Puerto Rico is a colony, this…"– she held up her copy of The Taste of Sugar— " is a good way to find out."
Taste of Chicago To-Go in Humboldt Park was supported by The Puerto Rican Cultural Center and the Chicago Department of Cultural Affairs and Events. In addition to the conversation, attendees enjoyed a food demonstration by Urban Pilón's Roberto Pérez, live music by Bomba con Buya, and artwork by local vendors.