La Voz del Paseo Boricua – 2546 W. Division St.
www.lavoz-prcc.org

 

/

 

info@lavoz-prcc.org
Celebrating 12 years of publications 2004-2016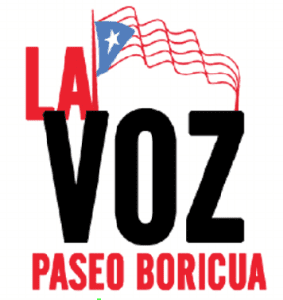 The most recent manifestation of Puerto Rican journalism in Chicago, La Voz del Paseo Boricua proudly continues in the legacy of our community's previous newspapers. Founded in 2004, La Voz del Paseo Boricua, or simply "La Voz" as called by our readership, is a grassroots bilingual periodical published by the Juan Antonio Corretjer Puerto Rican Cultural Center. On a monthly basis, we report on stories relevant to our community, disseminating news about local events, programs, resources, and developments. As an alternative source of media, we seek to acknowledge the achievements of the Puerto Rican community at large and advocate for the preservation of the heart of our barrio in Humboldt Park – nuestro pedacito de patria en Chicago.
For more information, contact Jonathan Rivera Lizardi at:
1112 N. California Ave
(773) 227-7794
lavoz@prcc-chgo.org
La Casita de Don Pedro
Was originated as a wish that was alive in the community and that was happily realized by our people. By 1995, when the Paseo Boricua was a reality and Puerto Rican pride was elevated by the largest two Puerto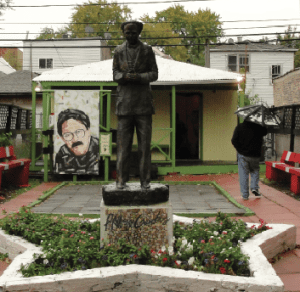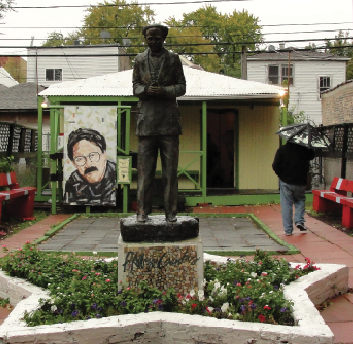 Ri can flags in the world, the idea of constructing the Casita was already in the air, weaving its way in and out of the conversations of the community's leaders, educators and cultural workers. The construction of the Casita began when the Dr. Pedro Albizu Campos High School reached an agreement with Architreasures, inc. to develop a community-based garden-gallery. Teachers and students of the school, along with young people, children and adults, began work in the summer of 1997. In September of 1997, as part of the Fourth Fiesta Boricua, the Casita was inaugurated, and included a gallery (a batey), a garden, and the Statue of Dr. Pedro Albizu Campos. Lolita Lebron came from Puerto Rico for the ceremony and the community responded with enthusiasm and support.
 Since the spring of 1998, La Casita has offered a variety of cultural services to the community. The gallery holds a collection of Puerto Rican photography and artisanry. It also serves as an open space for Bomba & Plena dancers and musicians to perform and offer free workshops for the community. Every year, the Casita hosts a summer long Puerto Rican artisan market, where local artisans sell their creations as well as impart their creativity.
La Crucifixión de Don Pedro Albizu Campos
"La Crucifixio
n de Don Pedro Albizu Campos", has been a part of the Humboldt community for about 40 years honoring leaders that helped Puerto Rico gain independence. Many Puerto Ricans live with Humboldt Park and are influenced by this mural. In early 2000s plans for building condominiums started trouble for the community, for these new buildings would forever block this painting. Residents of the community wrote against the new buildings and ultimately saved and honored the mural, resulting in preserving historic artwork. It is a piece of history within this artistic community and resembles the people as well as their ambitions. As for the "La Crucifixion de Don Pedro Albizu Campos" all of their art is special to Humboldt. This painting inspires and influences this community. They are specially designed to motivate and resemble this fine culture. The flag in the background is called the La Bandera de Lares. It represents Puerto Rico's first declaration of independence from Spain on September 23, 1868. This armed uprising is historically known as El Grito de Lares. It took nine years to save this mural from destruction. A new condominium was planned and if built, would have blocked off the mural. Community members concerned about gentrification of the neighborhood as well as saving the oldest Puerto Rican mural in Chicago went into action and saved it.