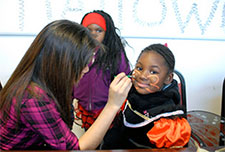 Please follow and like us:
Friday, October 31, 2014–Chicago IL. "Haunted Paseo rain, snow or else….is happening". An enthusiastic crowd of community organizers, volunteers and business owners shared treats, games and fun activities with dozens of families on the 13th edition Haunted Paseo, this year dedicated to the extravagant Carnival Circus theme. Even with the wicked weather, many came out and enjoy the event to the fullest. Children all ages were able to participate of diverse activities from dance contests,
face painting, a petting zoo, a haunted circus among others including healthy treats and candy in different fashions. Haunted Paseo was made possible by the extraordinary support of  Dr. Pedro Albizu Campos High School, Puerto Rican Cultural Center, Barreto's Union League Boys and Girls Club, Roberto Clemente High School, La Voz del Paseo Boricua, Batey Urbano, Diabetes Empowerment Center, Bacca, Affordable Care Act (ACA), El Rescate, Women for Paseo, Consuelo Lee Corretjer Day Care, Vida/SIDA, AfriCaribe, La Bruquena Restaurant, West Town Bikes, DSBDA and all the families of Humboldt Park and neighboring communities–"Por decir Presente"!