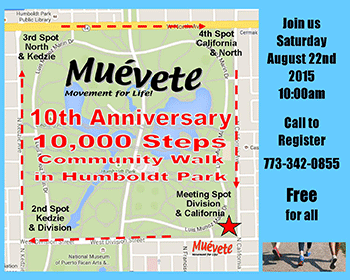 Please follow and like us:
By Leony Calderón, Diabetes Empowerment Center
Muévete is celebrating its 10th anniversary (Aug. 2005- Aug. 2015). What started as a walking group twice a week around Humboldt Park has evolved into a community based physical activity program. Muévete provides classes of Dance-aerobics, Zumba, Pilates, Tai Chi, Yoga, seasonal walking and biking and the once a year Move for Life! season kick-off event.  Classes are held Monday through Saturday, and at three different locations, free of charge and open to adults 18 and over. All classes are accessible to all fitness levels to encouraging movement for all and support an active lifestyle.
On Saturday, August 22nd 2015, we will celebrate the 10th anniversary with a 10,000 steps around Humboldt Park.  Free of charge and for the entire family. There will be prizes for every 5,000 steps an individual takes. Music, heart screenings, snacks and refreshment will be provided. Please call or visit to register at the Diabetes Empowerment Center, 2753 W. Division St. 773-342-0855.