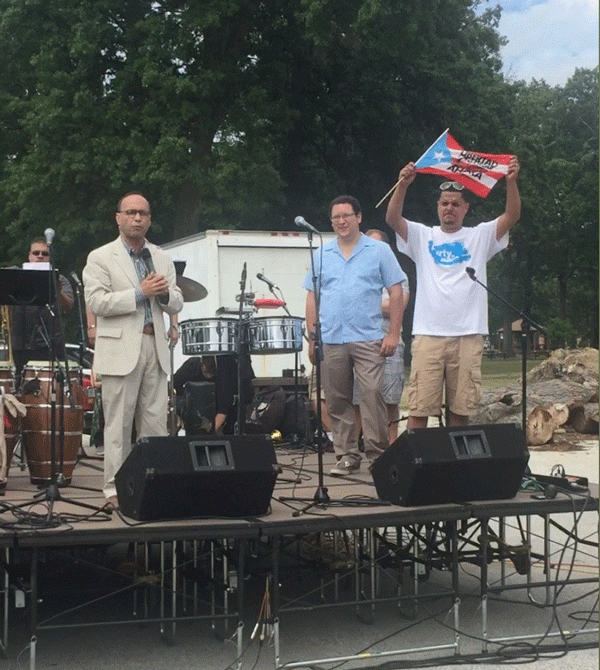 Please follow and like us:
Congressman Luis V. Gutiérrez received a rousing welcome by hundreds of Puerto Ricans/Latinos in Lorain, Ohio as he initiated his efforts to build support for a massive freedom musical event to be held on Oct. 9, 2016 in Washington DC, demanding the release of the Puerto Rican political prisoner Oscar López.
In his opening remarks, Councilman Arroyo noted how Gutiérrez had become a voice for the millions of undocumented workers, for the defense of Puerto Rico and  particularly for the release of Puerto Rican political prisoner López Rivera.
Luis spoke about how this issue had also been very important to him as well as the defense of Black Lives, the uplifting of women's and gay rights, but, for him at this point, the freeing of Oscar López Rivera by Pres. Obama was a priority. Congressman Gutiérrez was invited by Lorain Councilman Angel Arroyo Jr. as part of an annual community festival in his predominantly Puerto Rican/Latino district.  Councilman Arroyo was joined on stage by State Rep. Dan Ramos, the highest ranking Puerto Rican elected official in Ohio, and Mayor of Lorain, Chase Ritenauer, who also gave a  warm welcome to Congressman Gutiérrez.
He acknowledged and thanked the President for releasing many people who had faced longed sentences, but it was time for him to free Puerto Rico's and Latin America's Nelson Mandela. He urged everyone to mobilize for Washington DC for the musical event being organized by the Coalition for the Liberation of Oscar López Rivera, on October 9, 2016 in front of the White House. Lorain was his first stop in moving this national effort.