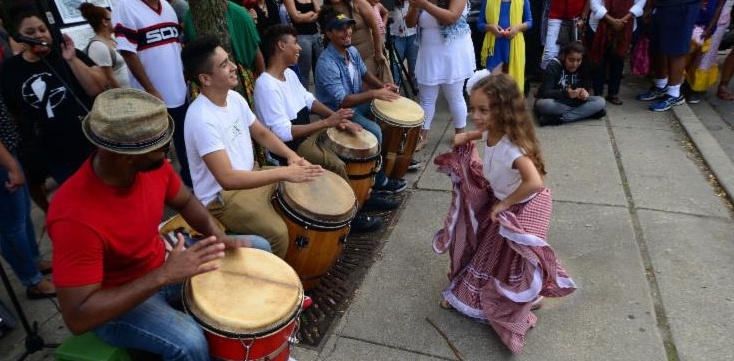 Please follow and like us:
For 23 years the Puerto Rican Cultural Center, named in honor of Poet and activist Juan Antonio Corretjer, has mobilized hundreds of volunteers to organize and execute Fiesta Boricua, the only festival in Chicago that closes traffic for two full days in the area known as Paseo Boricua, located on Division Street between the famous Puerto Rican flags on Western and California in Humboldt Park. Every year the festivities take place during Labor Day Weekend.
During those 23 years the festival has undergone significant changes, adapting to the ups and downs in the economy and shrinking budgets from sponsors. For many community festivals, a $100,000 budget cut would mean the end of a well-intentioned volunteer-run initiative. The garbage pickup is also run by volunteers like Lourdes Lugo, who I've been trying to say hi to for the last hour but she's too focused on getting as much done before night falls. She speeds by me and goes to the next pickup. Volunteers and paid staff are everywhere but the task at hand is immense.
Fiesta Boricua has managed to stay afloat and reinvent itself with the concept: "Lo Mejor de Nuestros Pueblos", where PRCC collaborates with municipalities and cultural projects from the island, finding creative ways to raise funds and support the cultural groups that travel to Chicago for the festival.
As a Puerto Rican that was born and raised in the island and has lived in Chicago for 16 years, this is the Boricua festival that I enjoy the most. There's something that feels right about closing Paseo Boricua to celebrate our art, our music, our businesses and our culture. I remember seeing Eddie Palmieri, Willie Colón, Andy Montañez, Cultura Profética and so many of Puerto Rico's most recognizable acts right here not too long ago. While budget cuts mean that those artists are usually not accessible for Fiesta Boricua anymore, as I walked down Division Street this weekend from flag to flag, I understood why I continue to be so drawn to this festival even when I have been critical of it in the past. This year the quality of the Chicago and Puerto Rico-based "artesanos" (artists/arts & crafts), as well as the amazing food, and the combination of lesser known and internationally acclaimed musicians (Hermán Olivera and Pichi Pérez are salsa royalty for any good listener) made the experience worthwhile for festival goers of all ages.
An example of community art in action, the yearly bombazo organized byAfriCaribe at La Casita de Don Pedro continues to be the place to experience Afro-Puerto Rican roots music with the flourishing local bomba scene, further enriched by out-of-town bomberos coming from Puerto Rico, Florida, and New York among other places. The young, as is the case of the members of Arawak'Opia (SRBCC's Youth Bomba Ensemble) are given their chance to hold their own with the masters. Also worth mentioning that Arawak'Opia had their first appearance on the Fiesta Boricua main stage as well, making this community event a place where dreams are realized. I could see the excitement in the faces of aspiring musicians from Humboldt Park and Hermosa that were given a real chance, and their accomplishments were enjoyed and celebrated this weekend. Most of these young men and women have to grow up very fast. With all the violence in Chicago these days, what they experienced at Fiesta Boricua means a lot.
Food Highlight: Fresh-made mofongo by el Caldero de Khalil
This review needs to reflect the religious experience of tasting a fresh-made trifongo, prepared by el Caldero de Khalil, a group of Puerto Rican chefs with a thriving culinary concept that traveled to Chicago from the island just for the Fiesta Boricua weekend.
I go to Puerto Rico at least three times per year and I can say without hesitation that El Caldero de Khalil is by far the best trifongo-maker this guy has ever known. For those who don't know, a trifongo is a take on the mofongo (mashed plantain) that incorporates sweet plantain, green plantain and yuca. This tightly-run operation did not stop for two straight days, serving generous plates of island goodness that included mofongo topped with veal stew, slow-cooked pigeon peas, chicken or shrimp. Rumor has it that some VIPs showed up around 6:30 pm on Sunday and all that was left was a bit of "caldo" (broth).
After mofongo heaven, I washed down the hearty plate of food with some tamarind Pito Rico, the newer brand of only two producers of legal Pitorro (flavored Puerto Rican moonshine). This one came directly from the family's production plant in Jayuya, Puerto Rico. The list of available flavors included coconut, passion fruit, orange, tamarind and sangría. Free samples were given all day long to festival participants on both Saturday and Sunday.
Artesanos' highlights
In the "artesano" columns, I'm giving four stars to Artesanía de Madera by Kerly, bringing locally produced wood products, including beautifulpilones (pestles) and tostoneras (toston-makers) made with three different kinds of wood.
Every year I'm blown away by Elias Carmona's photography, which this time featured a breathtaking picture of the Pedro Albizu Campos' statue located at La Casita de Don Pedro. The carefully shot picture in a dark snowy night in Paseo Boricua has a truly hypnotizing effect. Other pictures include his collection of "pleneros" and the amazing urban images from his trips to Puerto Rico and South and Central America.
We round up the artesano highlights with Urban Pilón's hand-crafted pique(vinegar-based hot sauce) and Brenda Torres' oneiric Freedom Effect t-shirt designs. Urban Pilón is Roberto Pérez's completely original culinary concept, highlighting the use of fresh and locally sourced ingredients to produce bold and healthy island flavors. Brenda Torres is a Chicago artist producing high-quality wearable art that destines 10% of all profits to deserving Humboldt Park students seeking careers in the Creative Arts.
With all this talk of food and art, I almost forgot to talk about the music…
This year featured the voices of Sonora Ponceña's Pichi Pérez and Eddie Palmieri's Hermán Olivera to close Saturday and Sunday respectively. Both performances were exceptional, with special interventions by Chicago-based salsa bands Naborí (backing Pichi Pérez) and the Edwin Sánchez Project (backing Hermán Olivera). Both local bands demonstrated that we have plenty of talent in the midwest to hold our own with the very best international exponents of tropical music.
Other musical performances included the captivating voices of Chabela and Lester Ray, as well as salsa acts Yova Rodríguez, Orquesta Leal, and Willie García's Sabor. Folkloric music from Puerto Rico was represented by Chicago's own Buya, a group that has established itself as one of the very best Bomba projects in the United States. SRBCC's Arawak'Opia Youth Bomba Ensemble, Ballet Folclórico Guajana (Puerto Rico) and Son d'Yavú (Puerto Rico) are also worth mentioning as the festival continues to bring more cultural acts to the stage.