Please follow and like us:
Faithful to its mission, The Puerto Rican Cultural Center continues to promote vigorous self-reliance in the face of the COVID-19 outbreak. The PRCC has now retooled its efforts to respond to the more immediate needs of a community in crisis. The health disparities that have historically plagued Puerto Rican populations are now exacerbated by the limited mobility and loss of income triggered by this pandemic. Therefore, The Puerto Rican Cultural Center is taking steps to ensure the continuity and the penetration of critical services. To this end, we are also identifying scores of Puerto Rican refugees who fled the devastation of Hurricane Maria and the subsequent earthquakes and are now living in Humboldt Park — re-traumatized by the immensity of the coronavirus contagion.
While all non-essential services of The PRCC have temporarily closed, a select few remain open. These include the Consuelo Lee Corretjer Day Care Center, so working parents will not be forced to choose between a paycheck and the wellbeing of their children; the Public Health Initiatives food pantry for those who are living with HIV, health insurance navigation for those who are uninsured, and mental health and substance abuse counseling online; and El Rescate — the permanent housing shelter for homeless LGBTQ youth.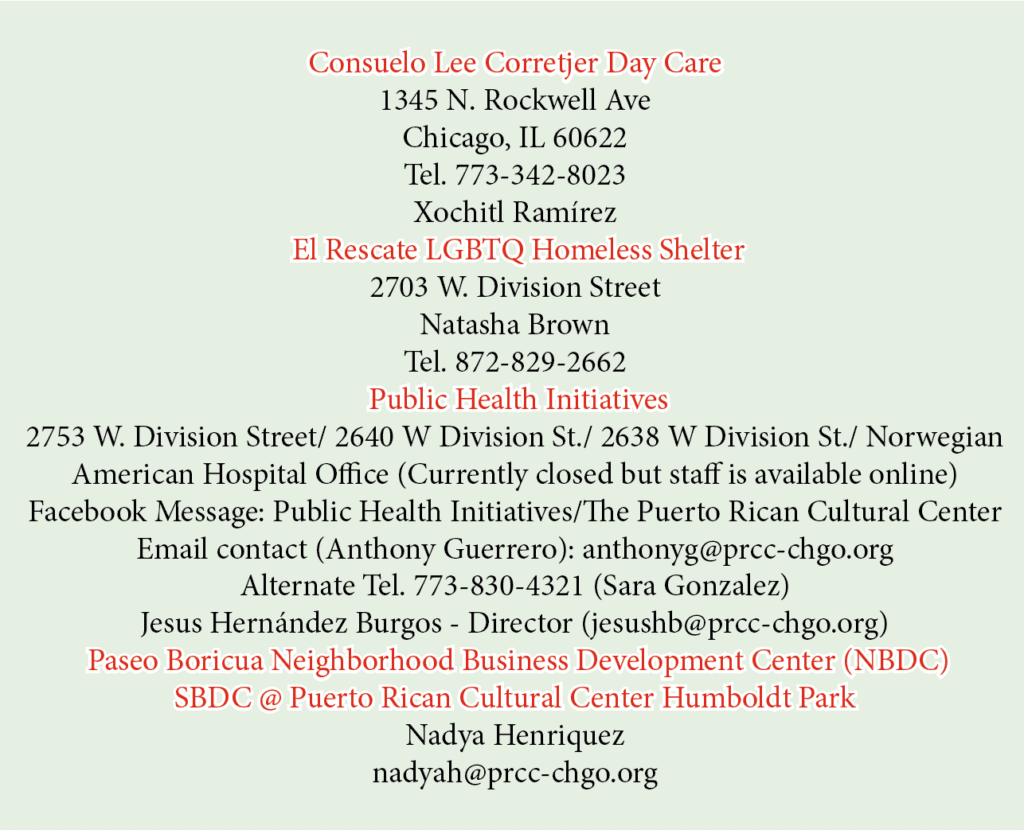 Moreover, The PRCC helped identify older members of the community not housed in traditional senior homes as well as homeless individuals residing in Humboldt Park, to take advantage of the "Cocina Mutua" (mutual kitchen), a hot meal delivery initiative co-sponsored by the Puerto Rican Agenda, The PRCC, and Nellie's Restaurant on Division Street.
Additionally, the PRCC is supporting small businesses so that they can apply for emergency funds and loans that have become available through the City of Chicago, the U.S. Small Business Administration (SBA), and the Illinois Department of Commerce & Economic Opportunity (DCEO), as well as any other assistance for which they may qualify. This support is made available through the Paseo Boricua Business Development Association (NBDC) and the new Small Business Development Center SBDC @ at The Puerto Rican Cultural Center Humboldt Park, scheduled to open its doors in 2020. Support is being made available via phone and email. If you require or have questions about any of the following services, please contact the programs during regular business hours.
By Roberto Sanabria, PRCC HR Director