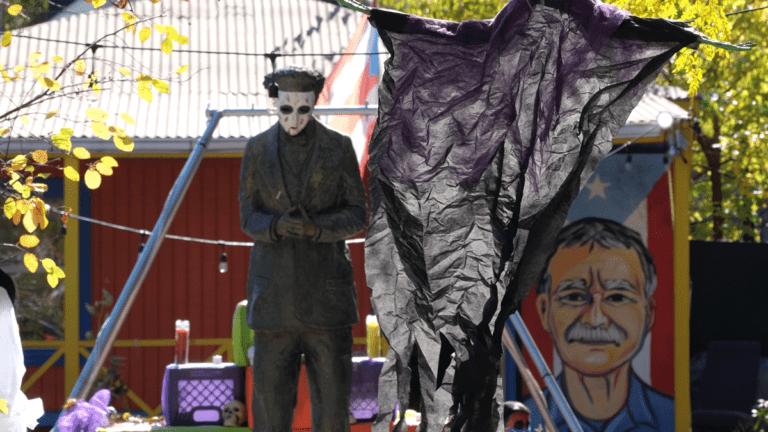 Please follow and like us:
Celebrating Life and remembering the dead during the Time of the COVID-19 Epidemic
1,500 children plus their moms and dads safely celebrated Haunted Paseo this year. Thanks to smart precautions and good weather, The Puerto Rican Cultural Center provided a COVID free and inviting alternative to traditional trick or treating during this year of pandemic – even surpassing last year's turn out. Along the Paseo Boricua, 20 stations stretching from West Town Bikes at Division & Campbell to the Lisa Isadora Cruz Trans Health Center on Division & California, offered socially distanced tricks and treats to the community youth. Glenda Guzmán, who co-organized this year's Haunted Paseo, said the best station was hers – situated at the Casita de Don Pedro, where blindfolded and socially distanced children took turns at whacking candy filled piñatas while screaming for joy.
Melissa Lewis, Principal of Dr. Pedro Albizu Campos H.S., organized a pumpkin painting station where children were invited to paint the gourds and carry away with them (with the help of a parent) a box of food, which was donated for this purpose.
Guzmán reported that overall the event was a great success. She touted the community's great capacity and resourcefulness to organize and execute culturally appropriate fun for the community's youth. She added, "I hope that next year the situation improves and that we can bring more joy to our community and to our youth."