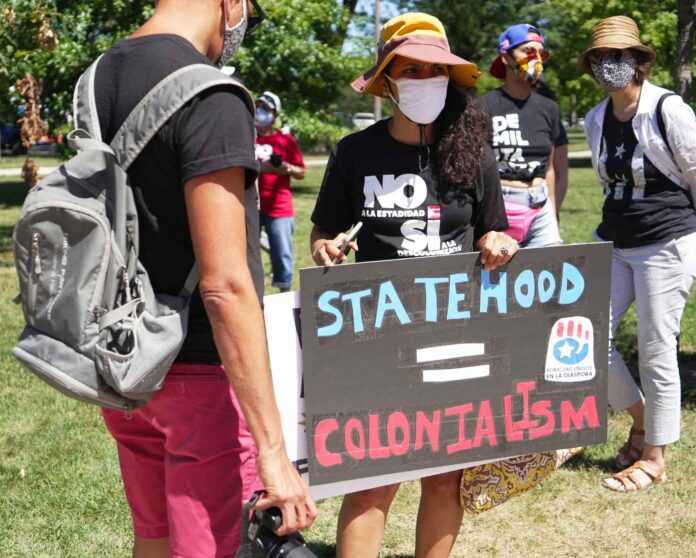 Please follow and like us: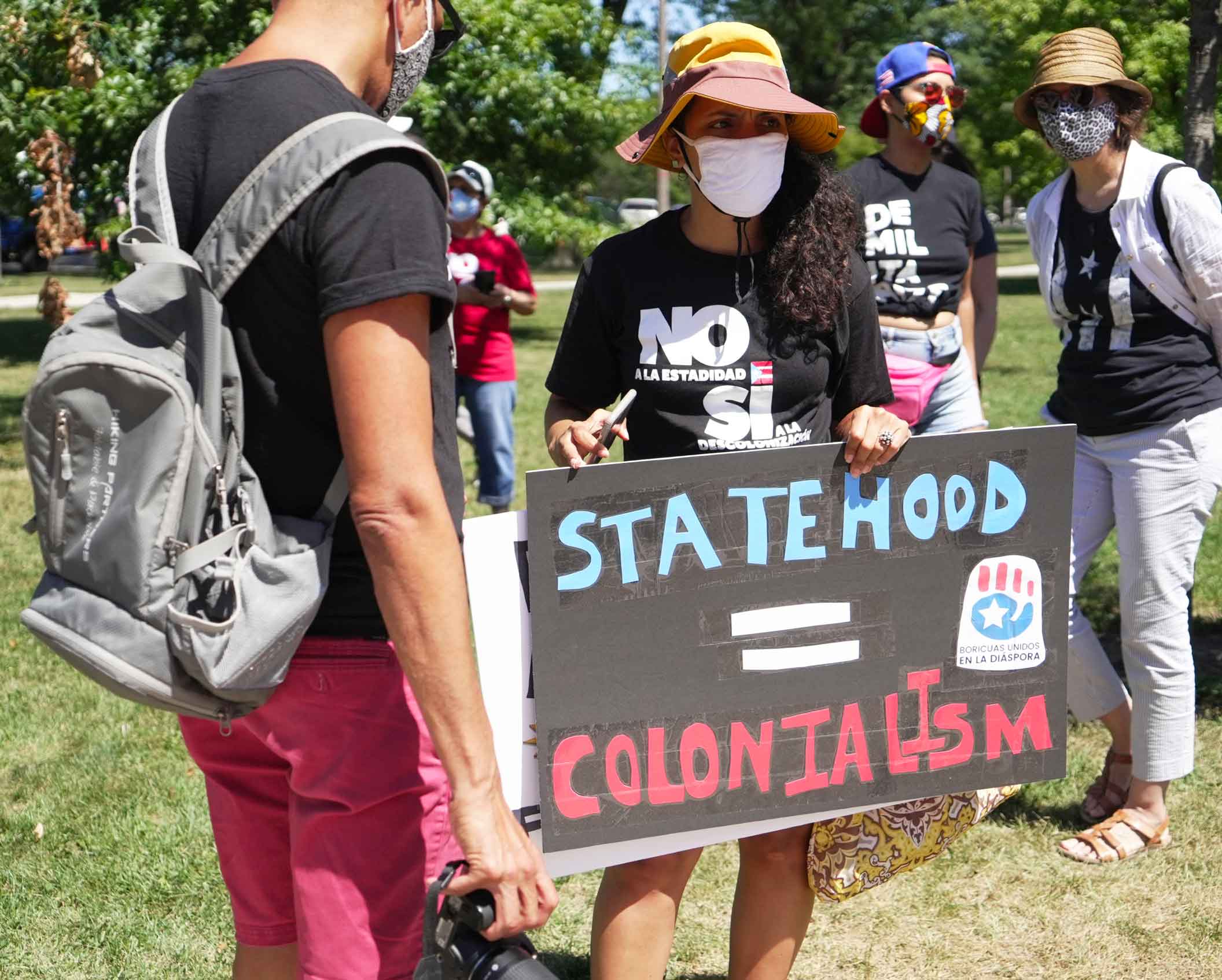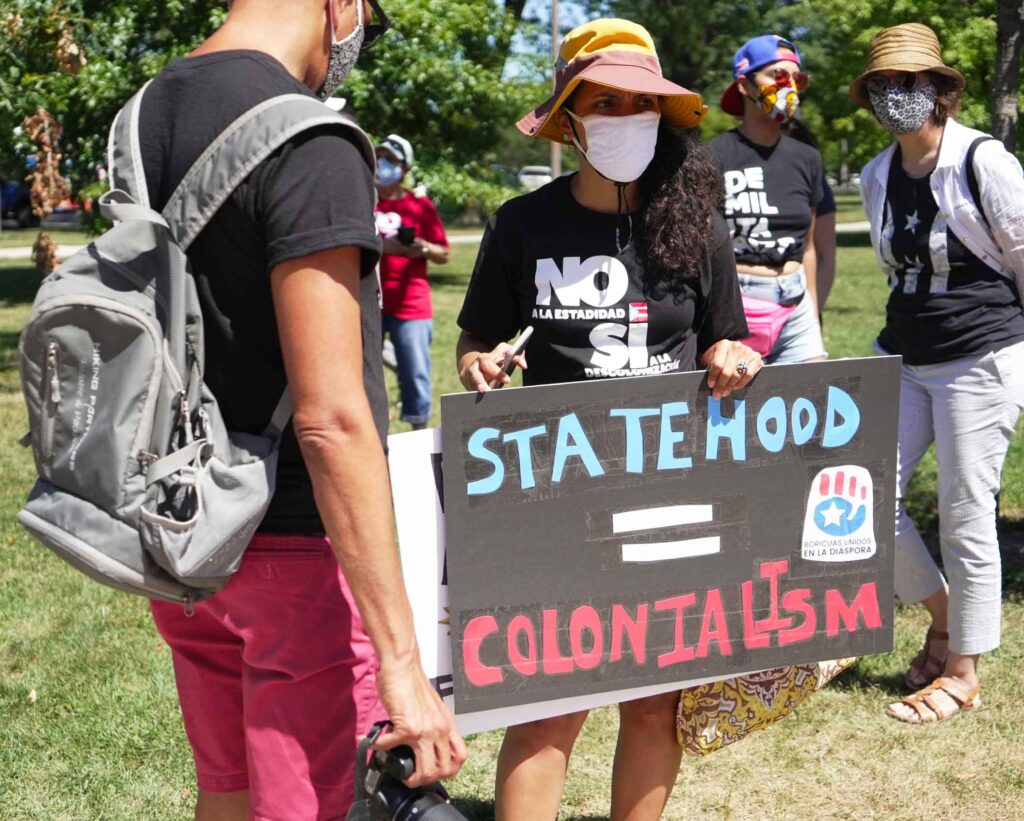 La Red nacional boricua pro derechos humanos (mejor conocida por sus siglas en inglés NBHRN) auspició una conferencia de prensa y una caminata bajo el lema: "No a la Estadidad, Sí a la Descolonización" el domingo 15 de agosto. La conferencia de prensa fue dirigida por la activista y líder comunitaria, Jessica Gutiérrez, y participaron la destacada licenciada Jan Susler – abogada que representó a los presos políticos puertorriqueños – como también una reconocida experta sobre violaciones de derechos humanos, y fueron acompañadas por la senadora estatal Christina Paccione-Zayas. Jessica explicó el propósito de la actividad y anunció que por razones de una tormenta tropical en Puerto Rico se pospuso la programada marcha en la isla. Pero, resaltó la importancia de que la Diáspora se dijera presente y que Chicago no se podría quedar atrás. Reconoció el simbolismo de realizar dicha actividad frente a la bandera puertorriqueña más grande del mundo – la bandera puertorriqueña de acero — ubicada en la esquina de la calle (honoríficamente nombrada Dr. Pedro Albizu Campos), y la avenida honoríficamente nombrada Oscar López Rivera. Siguió, en el micrófono, Jan Susler quien esposó el proceso histórico de recibo que ha llevado acabo el gobierno estadounidense para contener y destruir la lucha por la independencia de Puerto Rico utilizando el asesinato político, las masacres violentas, el carpetazo, e inclusive la criminalzacion de esa lucha entre otros medios. 
A dirigirse al público, la senadora Christina Paccione-Zayas articuló la importancia de la Diáspora en la descolonización de nuestra patria ya que los boricuas de acá constituimos más de 5.5 millones de habitantes dentro del corazón del imperio, contó que cuando el huracán Maria arrasó la isla, fue la Diáspora, y no el gobierno federal, que respondió. Inclusive los boricuas de Chicago lograron aterrizar un avión en la isla repleto de artículos de primera necesidad cinco días después del huracán.
Al culminar la conferencia de prensa, los casi 100 participantes iniciaron una caminata con las consignas "No a la estadidad. Sí a la descolonización" Dirigida por el joven Igna'ik Cruz Pérez esta caminata recorrió el Paseo Boricua de bandera a bandera mientras desde los carros se unieron muchas personas con el mismo reclamo "No a la estadidad. Sí a la descolonización". Honró con su presencia la escritora boricua, nacida y criada en Humboldt Park, Marisel Vera autora de la novela histórica, The Taste of Sugar. Obra que recoge las experiencias vividas por los migrantes boricuas a Hawaii al principio del siglo 20.