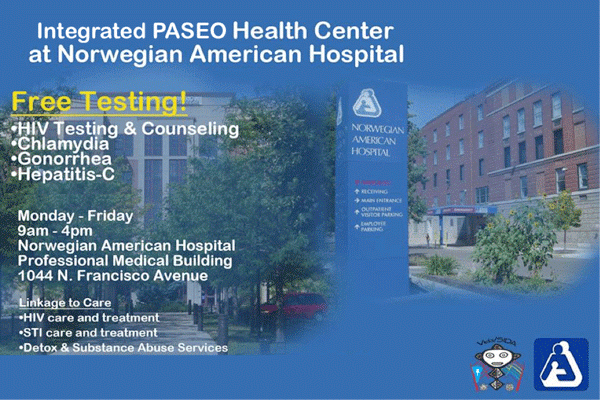 Please follow and like us:
by Anthony De Jesús, Integrated Paseo
Underfunded and underrepresented are the minority communities within the society of the United States. Latino and African American communities are the targets of racism and poverty and as schools, clinic, and after school programs are having money stripped away, this gives way to unsafe environments and health disparities. One community that is fighting to remain funded is the Humboldt Park community, specifically the Puerto Rican Cultural Center (PRCC). Serving Latino and African American populations, the PRCC offers services of testing, counseling, and referrals for free to all individuals who chose to participate. While working in cooperation with the Norwegian American Hospital to bring these services to individuals for free, the PRCC created the "Integrated PASEO" program which supports the community and offers testing and counseling. For information, call
773-772-5455
and you can speak with a representative to take advantage of the free services. The community is dedicated to help minorities overcome the health disparities that affect everyone.
Every weekday,
Monday
through
Friday
anytime between
9:00 AM and 4:00 PM
, Integrated PASEO offers free testing to individuals for Human Immunodeficiency Virus(HIV), Hepatitis-C Virus (HCV), and sexually transmitted infections (STI's). For anyone who screens positive, a referral is made for treatment; any individual who screens positive for substance abuse and Post Traumatic Stress Disorder (PTSD) are allowed to participate in the free "Seeking Safety" Counseling Program. The counseling program is available
Monday
through
Friday
, at anytime between
9:00 AM and 6:00 PM
. All services and resources are free to any individuals who are interested to participate. Integrated PASEO offers free HIV/STI and HCV testing and screening, free harm reduction kits, free female and male condoms, and free packages of lubrication. Call for more information or to make an appointment
773-772-5455
.