Please follow and like us:
On January 6, 2020, the Puerto Rican Community not only celebrated the traditional "Día De Los Santos Reyes Magos" (Three Kings Day), but also ushered in a year-long recognition of the 25th Anniversary of the Puerto Rican Flags of Steel, which encase the commercial and cultural heart of the Puerto Rican community and Paseo Boricua.
In contrast to January 6, 1995, when the flags were installed over hard-packed snow and under a frozen sky, the Three Kings Day 2020 was sunny and in the high 30s. This beautiful weather (for January) energized the spirits of the parade participants as they followed the Three Kings who were riding in their horse carriage from the corner of Division and Artesian to the Humboldt Park Fieldhouse where more than 1,000 gifts awaited distribution to area children from 0 to 12 years of age.
Local muralists Cristián Roldán and Luís Muñoz served as honor guards carrying two Puerto Rican Flags, evocative of a painting in the air with pride. "Los Pleneros of Segundo Ruíz Belvis" set the tone to the rhythm of bomba and plena, singing traditional aguinaldos, as well as new musical compositions, infused with humor critical of the war-like politics of President Trump toward Iran. Puerto Ricans attach humor to nearly everything — from bitting political commentary to the manner they react and ultimately heal from great loss and devastation. This is one of their recipes for resilience that so much characterizes them.
Hundreds of people, including entire families, walked, danced, and sang along the mile-long route displaying their joy, their pride, and a deep sense of community in their "pedacito de patria" en Chicago.
Among elected officials who marched in the parade were Alderman Roberto Maldonado (26th Ward); State Representative Delia Ramírez (4th District); State Senator Omar Aquino (2nd District); Jesse Reyes, candidate for Illinois Supreme Court Judge; Alderman Félix Cardona (31st Ward); Michael Cabonargi, candidate for Clerk of the Circuit Court.
In the community, no public event is carried out without the presence of Puerto Rican Boxing World Champions Luís Mateo and Fres Oquendo, who always say "¡Presente"!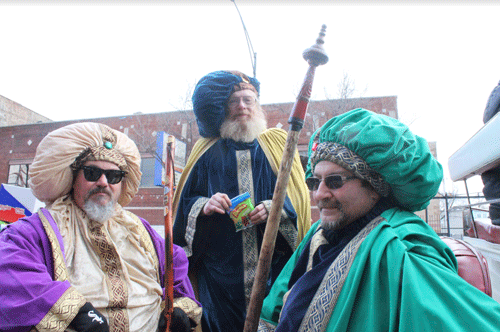 Members of Latin American Motorcycle Association (LAMA), who have co-sponsored the parade since its inception, joined the procession on Division Street with their sounds and rhythms, and vestments of the motorcycle culture. Also participating was a fire truck provided by Toys for Tots, as well as CTA buses that transported many children and their parents.
At the Fieldhouse hundreds of gifts, donated by several organizations and individuals including Tots for Toys were distributed to joyful children, and many families took pictures with the Kings in person. Additionally, West Town Bikes, as usual, gave away 35 bicycles.
Thank you to all those who co-sponsored this event, including Marilyn Morales from the Chicago Park District, Alderman Roberto Maldonado, State Senator Omar Aquino, and State Representative Delia Ramírez, and to the dozens of volunteers who made this event possible. Special thanks to photographer Elias Carmona for capturing the memories of this historic event of the Puerto Rican Community in Chicago.
Nadya Henriquez, La Voz del Paseo Boricua
Pictures Credit: Elias Carmona