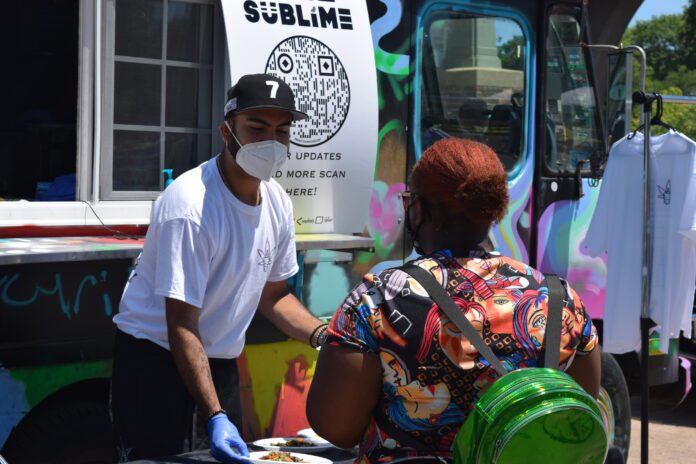 Humboldt Park institutions showed up in force on July 13th to promote a healthy community. The event was billed as "Survival Day", and was organized by Healthy Hood and sponsored by 26th Ward Alderman Roberto Maldonado's Office with the help of The Puerto Rican Cultural Center (PRCC), Save Money Save Life, and Community Organized Relief Effort (CORE).
Survival Day took place in the parking lot of the Boathouse Café, which is in the heart of Humboldt Park. A team from CORE administered free COVID-19 testing. Hundreds waited patiently in line to take the test whiel listening to curated music from DJ@Giosandz, and enjoying free tacos from chef Manny's Taco Sublime. There were also free groceries by Save Money Save Life, and live art by @artbyroldan, @hai_ey, @clue.chicago, and @_frillz.
The initiative was undertaken because there is a startling increase in the number of COVID-19 cases in the Latino and African American communities of Chicago. Healthy Hood, the organizer, plans on having similar events in other communities of Chicago to fight the spread of
COVID-19 among minority groups.
Representatives from The Puerto Rican Cultural Center were present and provided crucial information regarding COVID-19 prevention, as well as services offered by PRCC's public health, human services, and business departments. PRCC is one of the first and strongest proponents for testing Latinos, and has pressured the City of Chicago, as well as the State of Illinois, to provide more free COVID-19 testing resources in marginalized communities of Chicago. PRCC's Census program staff was also present and distributed Census 2020 items to the attendees reminding them of the importance of filling out their Census information. PRCC staff helped those who had not yet filled out the Census, to complete and submit their forms online. Oftentimes people are unaware of the immeasurable work behind initiatives like this. Activist organizations such as Healthy Hood and PRCC are continually challenging city officials to allocate more resources to minority groups and disadvantaged communities. The fight is continuous, and as the pandemic progresses, activists look for more ways to protect the Latino and African American communities through education and prevention. "The inequity and racism that exists in healthcare is one I've dedicated my career to combating. This virus has only magnified the injustice we face as Black and Brown people. We have to fight!" said Tanya Lozano, co-founder and CEO of Healthy Hood. Healthy Hood is a community based, non-profit organization based in the Pilsen neighborhood of Chicago. It was established to provide affordable programming and resources that elevate the mind, body, and conscience as means to combat the current twenty-year life expectancy gap between underserved communities and high-income communities in the Chicago area and around the country. As many other activist organizations, Healthy Hood has a heightened understanding of the critical importance of easy-to-access health resources for people within their own neighborhoods so that transportation does not become an obstacle in getting tested.
At the onset of the pandemic, people were instructed to wait until they presented with symptoms before they would take the COVID-19 test, however, research has shown that some people can have the virus and be asymptomatic. For this reason, it is important to persuade people not to wait to get tested. If there is doubt about possible exposure, the best route is to get tested immediately.
According to the organizers, Humboldt Park "Survival Day" was a huge success — 646 people were tested for COVID-19, while hundreds of masks, face shields, and bottles of hand sanitizer were distributed. The importance of always wearing a mask while in a crowd was a theme that organizers came back to frequently. Wearing a facemask is our new normal; we need to make this our habit.
The reach of this pandemic is unprecedented in recent history. No community was prepared for such a profound and sweeping turn of events. Nonetheless, our community has risen to the challenge. Disparate Humboldt Park institutions seamlessly joining forces to promote "Survival Day" demonstrate the strength of our community. The roots of our organizations are authentic, relevant, and run deep. As long as they continue, our community will endure this crisis.
Nadya Henríquez, La Voz del Paseo Boricua