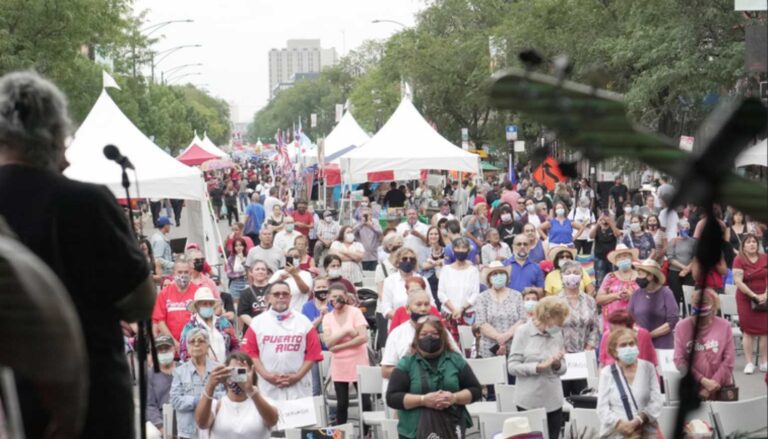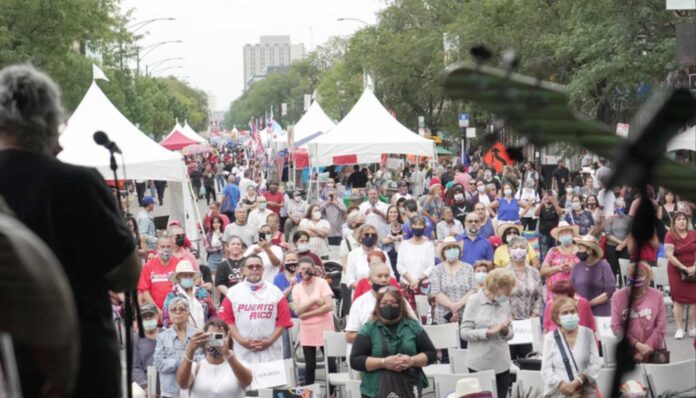 28th Fiesta Boricua
A Stunning Success with the best sounds and rhythms of Ciales
Un Abrazo Boricua entre Chicago y Ciales
En Paseo Boricua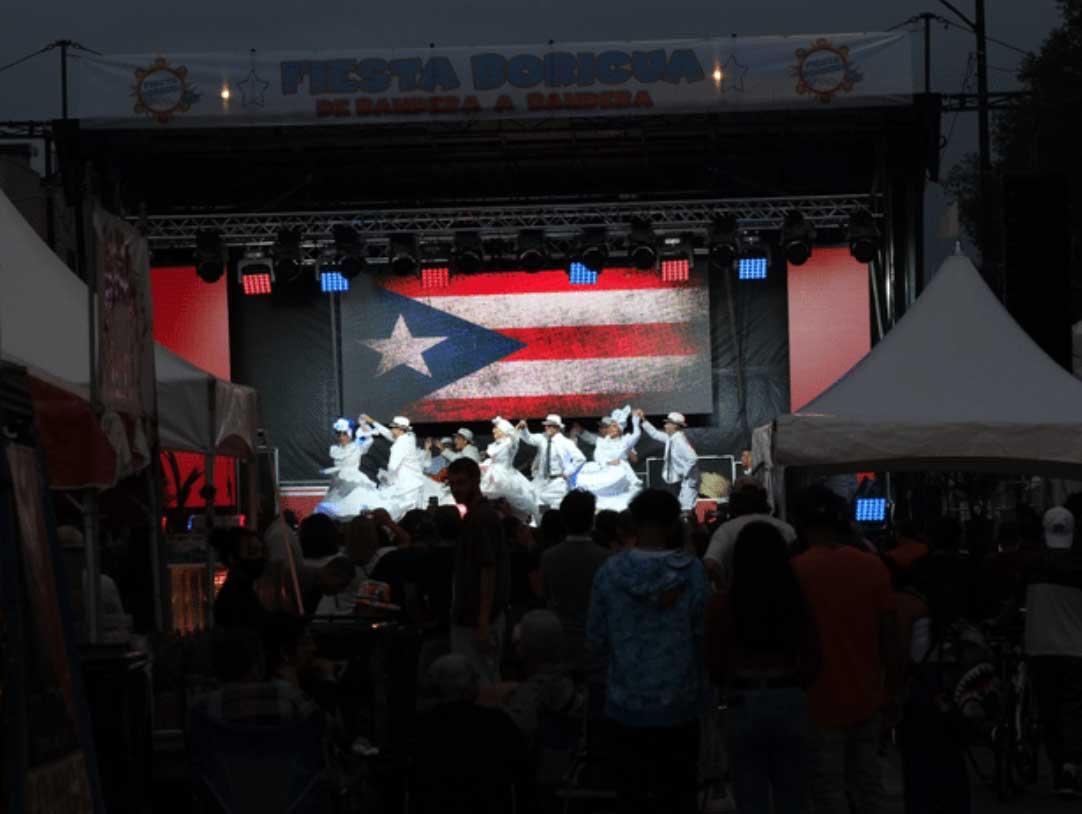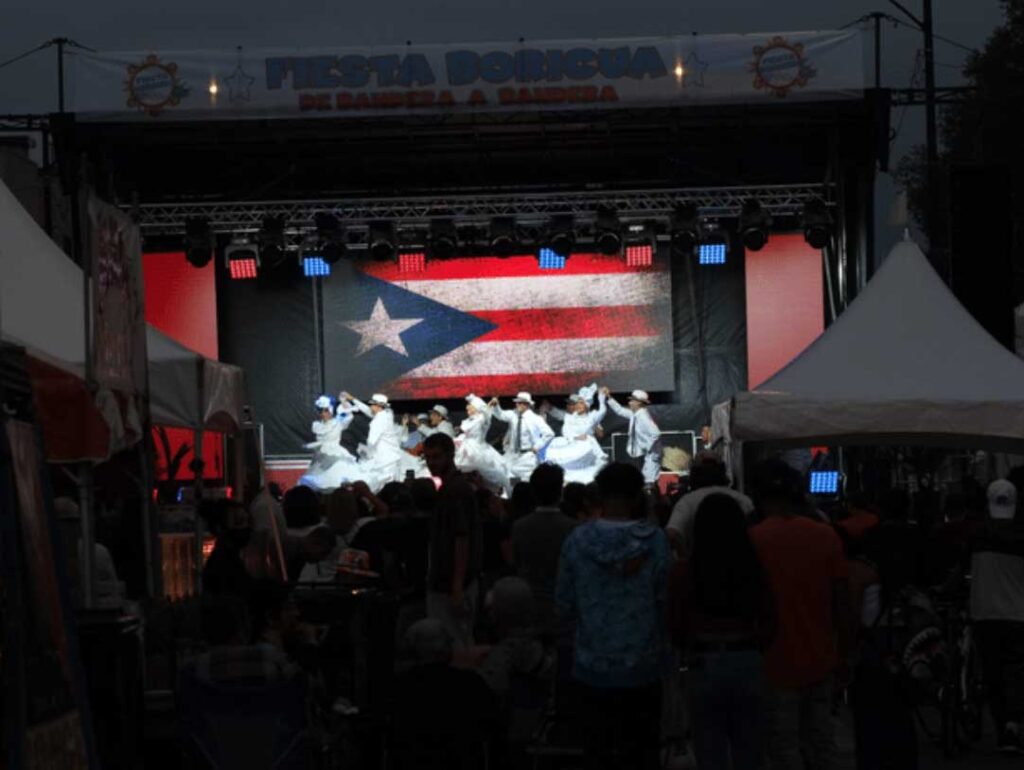 The 28th Fiesta Boricua "de Bandera a Bandera" was a stunning success where thousands upon thousands of people, particularly families, immersed themselves in the Puerto Rican cultural experience. Every participant was able to grasp the beauty, the depth, and the wonderment of our culture as expressed by the Cialeños. All our invited performers, vendors, event sponsors, and invited guests from Puerto Rico, particularly from Ciales, which this year represented "Lo Mejor de Nuestros Pueblos" were mesmerized by what transpired during this Labor Day weekend on Paseo Boricua.
While our performers, vendors, sponsors, and invited guests contributed so much to the success of our 28th Fiesta Boricua, it would not have been possible without the amazing labor of love of our volunteers who weaved this incredible cultural masterpiece. To them we extend our deepest gratitude, because their commitment made this unforgettable event another outstanding chapter in the 28 years of Fiesta Boricua.
The following events highlighted the 28th Fiesta Boricua/de Bandera a Bandera:
Thursday, Sept. 2nd The Puerto Rican Cultural Center welcomed Mayor Alexander Burgos and the entire delegation that accompanied him from Ciales to Paseo Boricua with a sumptuous dinner and a powerful musical/poetry presentation by Poet Carlos Quiles and Singer Elbin Torres, which honored the 40th anniversary of the writing of "Boricua en la Luna" (the epic musicalized poem of the Puerto Rican Diaspora written by the Ciales born Juan Antonio Corretjer);
Friday, Sept. 3rd two major components of Fiesta Boricua began-
1. the C.A.A.C./S.C.A.N. back to school carnival where hundreds of youths were provided with full all-day passes for rides once fully vaccinated.
2. The Noche Jíbara/Guayabera Gala at the National Museum of Puerto Rican Arts and Culture, which formally ushered in the 28th Fiesta Boricua with an amazing graceful and engaging performance by the dancers, musicians, and singers from Ciales.
Saturday, Sept. 4th at 12 noon the 28th Fiesta Boricua was in full gear with music beaming from two stages, food, artisanry, and drinks provided by more than 40 vendors including el chinchorro de Doña Sara with its Puerto Rican spirits and the ¡WEPA! Mercado del Pueblo featuring the best of its wares; at 3pm the traditional Misa Jíbara, a celebration of Puerto Rican spirituality expressed by the powerful social messages contained in the verses of the décimas of our trovadores; following the Misa the main stage was transformed into the best sounds and rhythms of every genre of Puerto Rican music including: Bomba, plena, and trova culminating with an electrifying performance by Willito Otero and his salsa beats from Puerto Rico. Additionally, that evening a riveting bombazo was held at the Casita de Don Pedro y Doña Lolita and the carnival with its many rides enthralled our youngsters.
Sunday, Sept. 3rd from Bandera to Bandera 1000s strolled along Paseo Boricua beginning at noon; they savored the best frituras, the smooth piña coladas, as well as attracted by the aroma of Cafe Cibales and captivated by the very intricate demonstrations by the Villalobos family of Puerto Rican furniture making, and the incredible moves by Nora as she put together her turbans from Guayama. By 5pm the traditional protocol ceremony was held honoring the town of Ciales as the representative of Lo Mejor de Nuestros Pueblos. While the Carnival continued throughout the evening, thousands gathered in front of the mainstage creating a sea of Puerto Rican flags to welcome the final act of the 28th Fiesta Boricua. The engrossing historical syncretism of Puerto Rican salsa was presented by Flaco Navaja who took the audience through a journey of the best exponents of Puerto Rican salsa from his original home – his native Bronx, New York.
Clean Up Crew led by Dr. Melissa Lewis :
Josue Gonzalez, Michelle Oquendo, Angie Velez, Sandra Sumlin, Helena Lavric, Lizzette Richardson, Karen Romero and her friend, Marie Snyder and Jose Navarro. Also, my husband, Clent Lewis my mom Lily Garcia and stepfather Edwin Fonseca.
Back to School Carnival logistics crew led by Jessie Fuentes and Marvin Garcia:
Marvin Garcia, Michael Tosado, Jenise Santiago, Jeff Nagamine, Tiana Cintron, Cristian Bermeo, Monica Lozada, Leslie Rodriguez, Alejandra Acevedo, Marvin Garcia, Brenda Rivera, Carl Hurdlik, Juan Maldonado
Transportation team led by Roberto Sanabria and Leony Calderon:
Jessica Gutierrez, Heriberto Hernandez Lopez, Edwin Cortez, Nelson Rodriguez, Frankie Davilas, Ivan Vega, Boris Hernandez, Andy Santiago, Juan Morales, Maria F. Castellanos
Mercado del Pueblo/Pop up vendors:
Matt Mcanna, Tata, Brazelle, Adriana, Kamyra, Manny Davila, Janai Tosado, Francesca Vega, David Arriola, Nadya Henriquez, Carlos Bosques, Yari Rodriguez, Sol Cordero
Noche Jibara/ Guayabera Gala Crew led by Christopher Concepcion and Sara Gozalez:
Dionisio Torres, Delixamar Rodriguez, Luis Cotto, Juwaan Santana, Cindy Espinosa, Elijah Reyes, Jimmy Egipciacom, Samuel Rios, Tatiana Rodriguez, Juan "Nito" Morales, Carlos, Jayla, Xiemi, Stacy Epps
Main Entrance Donation / Cleaning Crew led by Christopher Concepcion:
Jaylen Reyes, William Velazquez, Jessica Sierra, Stacy Epps, Lisa Cruz, Maya, Ricky Serrano, and Michael Colon.
Digital Presence Crew:
Matt McCanna, Tata, Xiomara Rodriguez, Janai Tosado, Raul Torres
Stage Production Crew:
Luis Rosa, Frankie Davila, Angie Cruz,Xiomara Rodriguez, Mostro
Vendor Crew:
Zenaida Lopez, Samantha, Digna
Troubleshooting crew:
Mikey Reyes, Ricky Serrano, Glenda Guzman, Emma Martinez,
Esmeralda's Stage:
Jose Soto
Finance crew:
Dina Bato, Rita Colon
Mia Jibara Crew:
Armando Nava, Kamill Torres, Luis Cotto, Tatiana Rodriguez, Juan Morales, Samuel Rios
Adrian
Business:
Special thanks to our business partners: Esmeralda's Cocktail Lounge, Lilly's Records Shop, Municipal Foods, Nellie's Restaurant, Esteelo
Alderman Maldonaldo's Staff:
Nereida Aviles, Nilda Montañez, Edward Fernandez
Welcoming Committee ( serve the meals): Kaina Toro, Adrian Rodriguez, Alicia Rivera, Angie Cruz- Perez, Sielina Castillo and Natasha Brown
Groundbreaking crew clean up and set-up: Kaina Toro, Adrian Rodriguez, Alicia Rivera, Angie Cruz- Perez, Sielina Castillo and Natasha Brown
Misa Jibara Chair pick-up: Kaina Toro, Adrian Rodriguez, Alicia Rivera, Angie Cruz- Perez, Sielina Castillo and Natasha Brown
Back-up MC: Angie Cruz Perez Mayor escort: Natasha Brown and team.