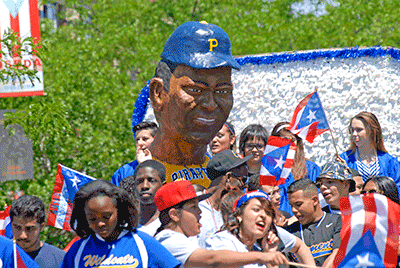 With thousands waving, the 2nd Annual United Puerto Rican Peoples parade took off from Division and Western, on Sat. June 14, headed by such prominent personalities as Gov Quinn, President Preckwinkle, and Mayor Rahm Emanuel. Also among the honored guests were Congressman Luis V. Gutiérrez, State Sen Iris Martínez, State Reps, Luis Arroyo and Cynthia Soto, Cook County Assessor Jose Berrios, County County Commissioner Elect Luis Arroyo Jr, and Aldermen Ray Suarez, Ariel Reboyras, Joe Moreno and Roberto Maldonado. The Parade's Grand Marshall was Puerto Rican House of Representative member Víctor L. Vassallo Anadón and it was dedicated to the Congressional Gold Medal Awardee the "Borinqueneers" which included Chicago's very own radio legend Raul Cardona, and to the 40th anniversary of Roberto Clemente High School. The presence of the HS was felt throughout the parade as thousands waved fans alluding to the 40th anniversary and as hundreds of students and staff from the school marched in the parade itself headed by Principal Marcey Sorensen and her leadership team. It should also be noted that this year's winner of the Commemorative Poster contest, Maricella Colon, was prominently headlined as the cover page of the special ad book insert of La Voz del Paseo Boricua. The high point of Clemente's presence was their legendary steel band and the student prepared "cabezudo" depicting Roberto Clemente, Puerto Rican humanitarian and athlete.
Another prominent "cabezudo" of the Puerto Rican patriot Oscar López Rivera made its way through the parade on the float of the National Boricua Human Rights Network, followed by a large contingent of sympathizers with t-shirts bearing Oscar's image and collecting petitions for his release. All of the Puerto Rican Cultural Center programs were well -represented during the parade route with floats and contingents-ACA, Vida/SIDA, DEC, Batey, BACCA as well as Dr. Pedro Albizu Campos Puerto Rican High School. The Vida/SIDA float featured the winner of the 2014 Paseo Boricua Cacica pageant Naysha López. For the 2nd consecutive year, the parade was transmitted by ABC Channel 7, see here.
Without a doubt, once again, the People's Parade served as a place to showcase Puerto Rican pride, culture, and community, and most importantly, promote it on our own commercial strip, restaurants and businesses. View more pictures on our Flickr account.