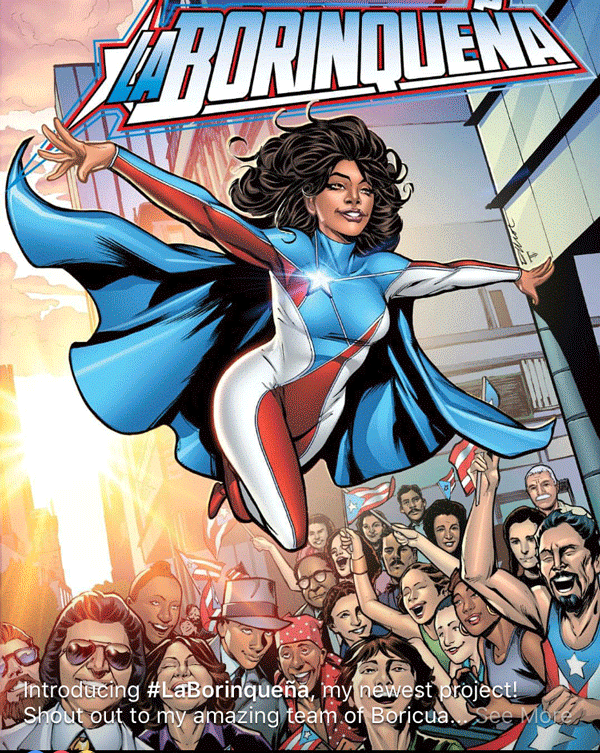 La Borinquena, a Puerto Rican superhero created by Puerto Rican collaborators, was announced

Tuesday

 in New York. (Art courtesy of Edgardo Miranda-Rodriguez) Ed Note: Note Oscar in the right corner, nestled among other Puerto Rican historical icons
THE ART OF collaboration was instilled in Edgardo Miranda-Rodriguez at an early age, when making the classic Latin American dish pasteles with his grandmother.
The preparation of pasteles – time-consuming and, if you're lucky, involving more than one person – is the ultimate team effort, says Miranda-Rodriguez, noting that the lessons learned from cooking with his abuela have stuck with him while working in the comic-book industry.
"I'd be in the kitchen, grinding up the platanos [plantains], even if my knuckles got scraped up on the grinder," Miranda-Rodriguez tells The Post's Comic Riffs. "That's sort of been the blueprint of my life. Coming together to create something, but at the same time, recognizing that the very DNA of my existence comes from my Puerto Rican identity."
Miranda-Rodriguez would go home and, after finishing his homework, spend the rest of the night drawing those comic-book tales requested by his friends. He was even drawing superhero civil wars decades before Hollywood would tell such stories.
Selling homemade comics was a business plan that would have had growth potential if not for one fact: Once he sold his first issue to a classmate, they'd just share the comic with each other, preventing the sale of copies of that issue. Regardless, Edgardo's passion was established.
His love of comic-book culture would lead Miranda-Rodriguez, who lives in the Williamsburg area of Brooklyn, to being introduced to legendary hip-hop artist Darryl "DMC" McDaniels of Run-DMC fame. He would also meet Marvel Comics editor-in-chief Axel Alonso.
Miranda-Rodriguez is now in the editor-in-chief of McDaniels's DMC comic-book imprint. He has also helped curate art shows featuring top Marvel Comics talent. Eventually, he and McDaniels began coming up with ideas that they could pitch to Marvel.