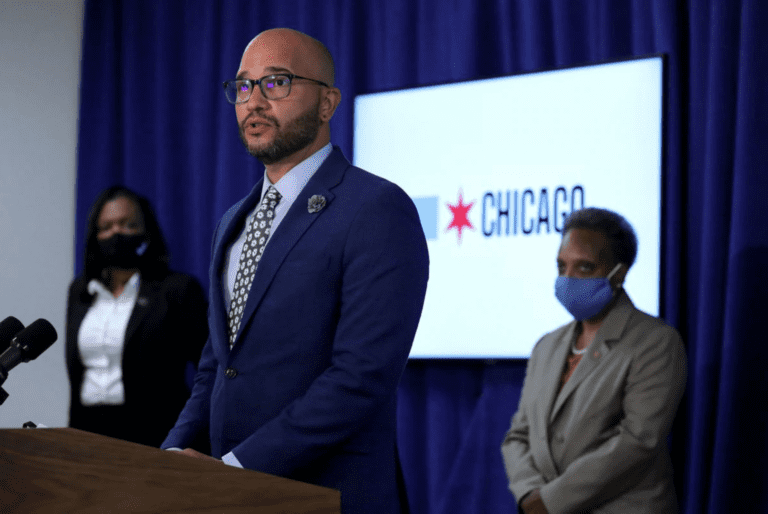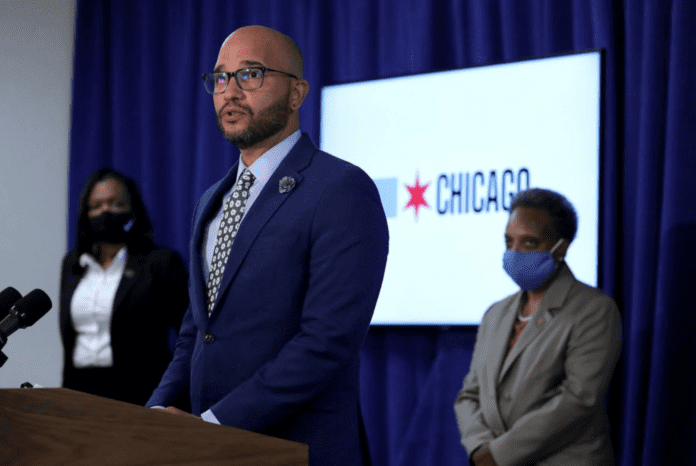 Roberto Clemente Community Academy Principal Fernando Mojica is flanked by Chicago Public Schools CEO Janice Jackson, left, and Mayor Lori Lightfoot at they discuss reforms to school police programs during a news conference at City Hall. (Antonio Perez / Chicago Tribune, Aug 20, 2020)
On Wednesday, August 19, Mayor Lori Lightfoot and CPS CEO Dr. Janice Jackson convened a press conference at City Hall to discuss reforms to School Police programs.
During which the alternative vision of the Clemente Community Academy was highlighted. The following statement was issued by Clemente's principal Sergio Mojica:
My name is Fernando Mojica, and I am the principal of Roberto Clemente Community Academy in Chicago's Humboldt Park neighborhood.
One of the most important parts of my job is creating a school culture where every student is able to focus on what matters most—learning and growing academically. Students are unable to thrive in an environment that makes them feel unsafe or uncomfortable.
The future of student safety at Clemente is something that we have been discussing for a long time. When the conversations around school resource officers began to grow several months ago, we made additional efforts to engage our students, teachers, parents and community partners to make sure that our final decision was reflective of what our community wanted.
Ultimately, our LSC voted to remove SROs for the upcoming school year. This vote was not because our two SROs were viewed as a problem; in fact, our school's relationship with CPD was quite strong. Rather, we simply decided that our vision for the future of Clemente did not include police in our school as a part of our approach to student safety.
So what is our approach?
We plan to continue working with our community to develop restorative, culturally responsive practices to undo years of inequitable policies and help our students and community heal from historical and generational trauma. Nearly all of our students are young people of color, and most come from families that face constant financial hardships, and It is my belief that these restorative practices will have transformative effects on their academic and social-emotional development.
One way that I know we will continue to prioritize student safety is by continuing to partner with the Puerto
Rican Cultural Center through the district's Safe Passage
Program to give our own community members the agency to keep students safe walking to and from school.
I plan to grow Clemente's strong relationship with Chief Jadine Chou and the district's Office of Safety and Security as we work together to engage our students and families on a plan that reflects our community's needs and—above all else—keeps students safe. This will be an ongoing process that will evolve as the needs of our school community change. Student voice will continue to be a crucial piece of our decision-making moving forward, because I want every student to be able to think back on their Clemente experience and say: "here is a way that I was able to make a difference in my community, by helping to create a safe and inviting place to explore the world." I am very thankful that CPS empowered our school to make this important decision on our own.
Thank you.