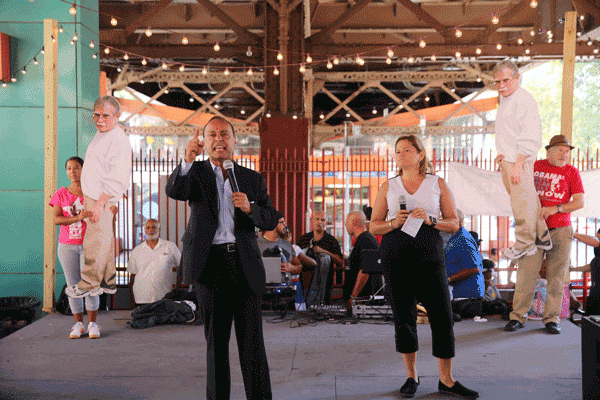 Hundreds Applaud, Cheer Cong. Gutierrez and Speaker Melissa Mark Viverito urging all
to join Oct. 9 Mobilization
Above photos: William Alatriste
On Sept. 17, 2016 a special and spirited rally was held in the historical site "La Marqueta" in East Harlem to Free Oscar Lopez Rivera. "La Marqueta" is a market built underneath the metro north train system that has been renovated into a special space for Puerto Rican cultural expression and fortification of identity. Thus renamed "La Marqueta Retoña". It is, in essence, an outdoor theatre with a Caribbean touch with "kioskos" that sell "alcapurrias","pastelillos" and other "cuchifritos" for the community to enjoy. It is an open space where artist and musicians share their talents with the community with free performances.
On this date it was "salsa" day  and attended by over 500 people. The community embraced the humanitarian rally for our beloved patriot Oscar who has been in prison for more than 35 years. Proclaimed by many the "Mandela of the Americas"  has become a symbol of unity and love for the Puerto Rican people. Special guests at this rally came all the way from Chicago. Congressman Luis Gutierrez who has embarked on a journey from East coast to Midwest to Free Oscar Lopez Rivera spoke in very moving  fashion to the hundreds present.  Jose E. Lopez, Oscar's brother was also present.
Over 1,000 fliers were distributed of the upcoming event Rally on Oct 9th to Washington, DC in the rally and community, 200 petitions were signed. T-shirts bearing the words "Obama: Free Oscar Lopez Now!" were sold and hundreds took turns to take pictures with the body size image of  Oscar.
The humanitarian spirit spread, the reception was fill with warmth and the community of East Harlem asked that we rally as much as possible.  Agreed, until Oscar returns home!