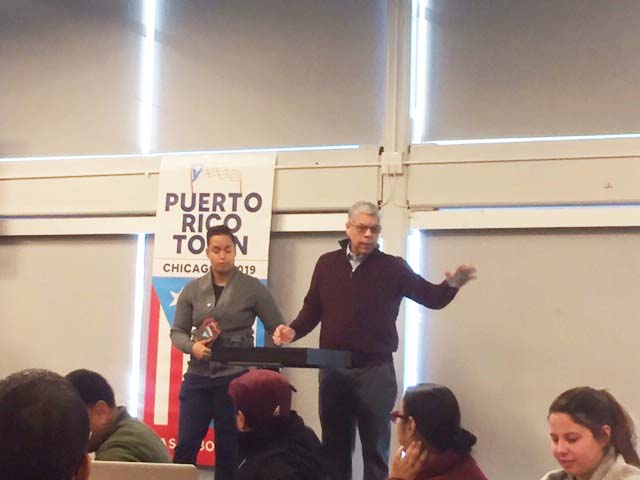 On Saturday, February 2nd, nearly 60 members of The Puerto Rican Agenda (Agenda) gathered for their monthly general meeting hosted at New Life Covenant Church Humboldt Park Campus.  General meetings are open to the public and serve to provide updates on Agenda initiatives, as well as share outcomes of resettlement efforts and aid provided to Puerto Rico as a result of Hurricane Maria. Building on two topics from the December meeting, the February meeting continued dialogues with mayoral candidates including Cook County Board President Toni Preckwinkle and Lori Lightfoot (December meeting featured Gery Chico and Amara Enyia) and honoring community pillars that historically preserved the Puerto Rican presence and influence of Humboldt Park through an awards ceremony.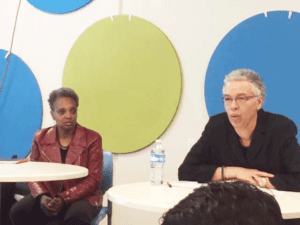 The Agenda's Housing Committee has worked on strategic initiatives to operationalize community-driven efforts to ensure that a robust and thriving Puerto Rican community exists for generations to come. After a successful Housing Summit that attracted 300 community members and local elected officials members of the Committee proposed Ald. Maldonado to introduce a resolution to City Council that would designate the area, on Division St. (the historical heart of Chicago's Puerto Rican's community), from Western to Grand Ave., as "Puerto Rico Town" (thus ensuring a new vision with deep roots for our community). The resolution was adopted by City Council in November 2018. It calls for the Illinois General Assembly to designate the area as a Special Purpose District that would constitute a "Cultural Sanctuary".
In celebration of having the resolution adopted by the City Council, the Division Street Business Association (DSBDA) and Agenda performed a soft unveiling of the Puerto Rico Town banners that will soon be displayed on the light posts throughout Paseo Boricua. Additionally, five key leaders and organizations, which have been pillars of Humboldt Park for more than 30 years, were recognized and honored with the Anchors of Puerto Rico Town Awards.
Wilfredo de Jesús, Pastor of New Life Covenant Church,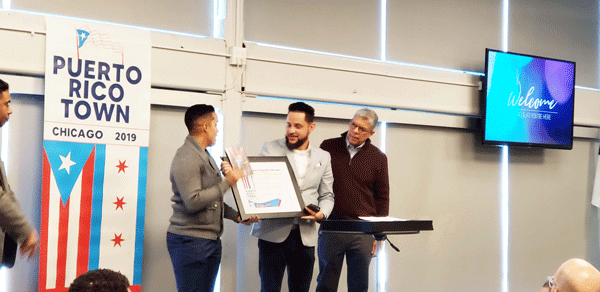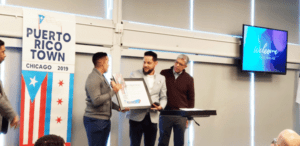 and the church itself, both received an award for the deep commitment to our community as the "Church for the Hurting" and for acting as an "anchor for Puerto Rico Town" as the largest Latino faith-based institution in Chicago. The award was received by the church's Assistant Pastor in De Jesús' absence.
The next award was given to Paul Roldán and Hispanic Housing Development Corporation for his and the institution's deep commitment to provide quality, affordable housing to our seniors and to our community at large.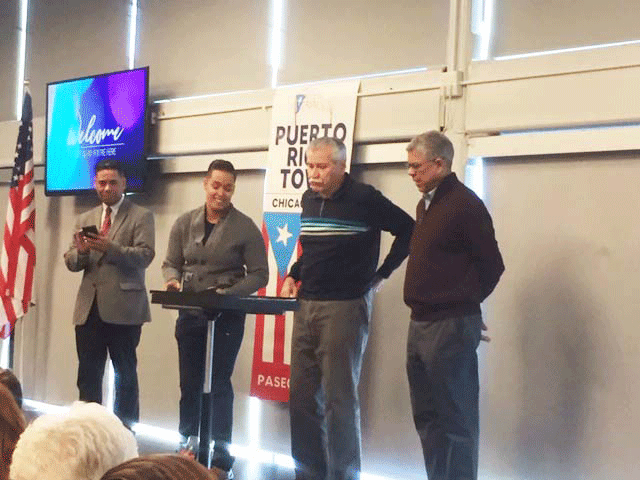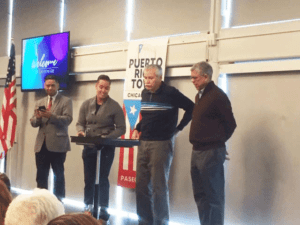 His profound sense of commitment to the community and Puerto Rico Town was recently manifested in his role of assuming ownership of the Casa Puertorriqueña building, which ensure its future as a community and by envisioning a new affordable housing development on the corner of Division and California. His vision of collective aesthetics is exemplified through the beautifully architectural rendering of the Teresa Roldán Apartments. Paul Roldán, again reaffirmed his deep commitment by saying "Whatever time I have left I will spend it building Puerto Rico Town."
The third honoree was Mario Nieves Aquino, International President of Latin American Motorcycle Association (LAMA),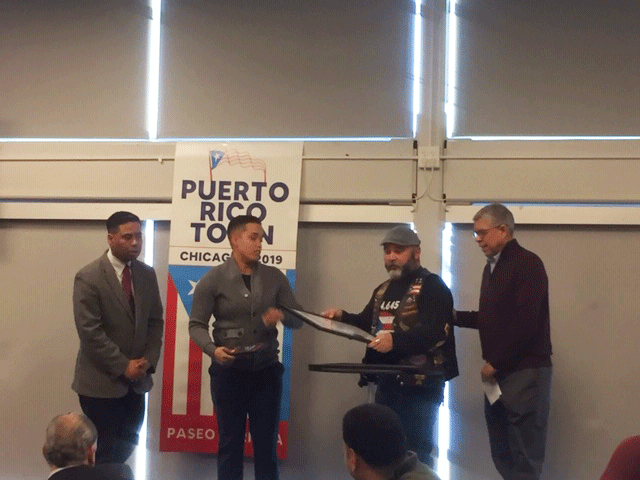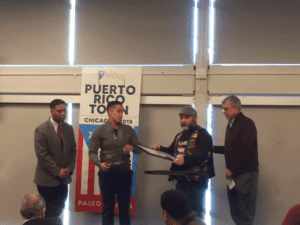 for his leadership in promoting cycling as a community building and cross-cultural process, and for serving as the Ambassador of Puerto Rico Town throughout the world. The award was received by José Luis Rodríguez member of LAMA who announced that LAMA was in the process of moving its Chicago Chapter office back to Humboldt Park in order to support the community even more.
José Sánchez (CEO) and the institution he serves, Norwegian American Hospital (Norwegian),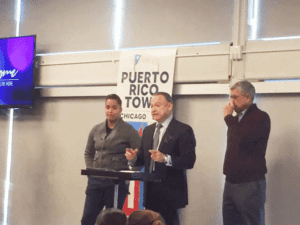 were presented the Anchor for Puerto Rico Town award. Norwegian serves as an economic engine of our community as it is the largest employer in the Greater Humboldt Park area. Moreover, Norwegian American Hospital is the birthplace of thousands of Humboldt Park residents, and particularly of some of our more well-known community leaders.
Sánchez's leadership and vision for future development as part of the Wellness District will further anchor Puerto Rico Town. Sánchez expanded on the developments Norwegian American Hospital has been working on such as "training 18 residents who will practice medicine in the community". Additionally, he was very proud to share that Norwegian Hospital's Children Mobile Clinic was able to see 3,000 children last year providing wellness to many Humboldt Park families.
The last award was given to Jimmy Bousis and Central Park Produce, for being purveyors of Puerto Rican products and produce for decades; for his unwavering commitment to the Chicago Puerto Rican community in times of need; and for serving as a commercial hub for Puerto Rico Town.
After these recognitions, local elected officials Senator Iris Martinez, State Representative Delia Ramírez, and Cook County Commissioner Luis Arroyo Jr.  shared their views of Puerto Rico Town. They reaffirmed how essential this project would be in order to counter aggressive gentrification efforts in our community.  Senator Martinez powerfully declared, "We will continue to multiply in this community!" Similarly, Representative Ramírez, who three weeks ago was officially inaugurated into the Illinois House of Representatives, affirmed, "We are not going anywhere, Humboldt Park NO SE VENDE!", making reference to the title of the play about gentrification that was premiered at Urban Theater last September, 2018.
By Cristina Pacione-Zeyas, Co-Chair Puerto Rican Agenda