Iván Velázquez was an extraordinary man. He was born Oct 23, 1946 in Peñuelas, Puerto Rico. Iván was a long-time resident of Humboldt Park, and established his business on Paseo Boricua in 1980. He was married to Noelia Velázquez for 45 years. He was blessed with four daughters, one son, two grandsons, and one granddaughter. Iván was the second oldest of nine children — five sisters and four brothers. He was a self-taught cabinet maker and highly skilled craftsman in his own right. He was sought after for his quality kitchen cabinets and famous for his domino tables. His craft and skills were passed down to his son, brothers, nephews, and several others who owe their cabinet making careers to him. Iván Velázquez was a true mentor.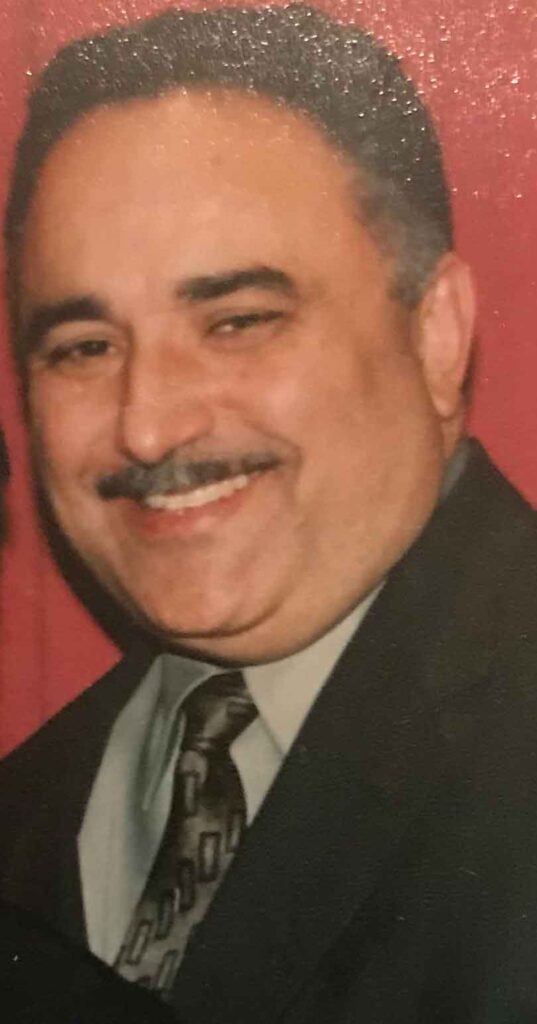 Since his early 20s, Iván was a pastoral figurehead and role model in the extended Velázquez family. Everyone turned to him for his wisdom, leadership, and guidance in all matters secular and non-secular. Doing what was right before God and man, Iván made time to visit the sick in hospitals and their homes. Without hesitation and a smile on his face, he sought out and helped people in need. He went on many missionary trips that took him to Puerto Rico, Guatemala, and Cuba. In 1996 he was anointed as Associate Pastor of Iglesias Misión del Valle. For 15 years he taught Spanish grammar at Voz Del Altisimo Bible Institute. He loved spending his time in prayer and studying the Word of God.
Iván was humble, charismatic, and jovial. His jokes and humor dominated social events and filled everyone's hearts with joy and love. Iván was a gift to his family and friends. Iván Velázquez was an exceptional man with a heart full of love for everyone. He will be remembered for his smile, kindness, generosity, respect, and faithfulness to God and others. He will be dearly missed.
---
The Puerto Rican Cultural Center, its board of directors, and staff join the Amador family as they mourn the physical loss of Luz Amador. Luz is the mother of Mildred Amador, an amazing filmmaker who produced the documentary film Flags of Steel and a long-time educator at Roberto Clemente Highschool. We know that Mildred's deep love for her PuertoRicanness and for our Puerto Rican community is deeply informed by her loving Mother.
---
My mother, Palmira Santiago Fraticelli Garcia, was born in Yauco, Puerto Rico on March 12, 1920, with a "government" birthday of May 10,1920, which is when she was registered.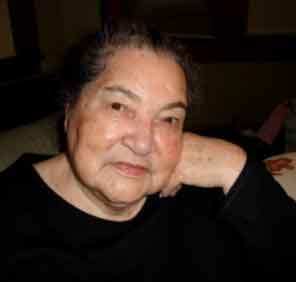 She was a happy child and always shared loving stories with us of her mother, family members, and friends during those formative years. When she told those stories, she was oblivious to the difficult times, to the poverty and disease that consumed her surroundings.
At an early age, she lost all her immediate family–her mother, brothers and sisters–to the horrific tuberculosis epidemic that ravaged Puerto Rico during the 1930s and 40s. She may not have known it, but that is when she discovered the ability of the human spirit to withstand tragedy with unbreakable strength.
She also lost a baby son in 1941(which she rarely wanted to speak of), her first husband Ruben Fraticelli Amil died of cancer in 1945, her son Ruben, murdered by the Chicago police in 1976, her son Porfirio died in 1986 at the age of 42 and my father Efrain, her second husband, passed away in 1993 at the age of 66. In spite of all her heartache and loss, she never faltered, she always endured. She was a true survivor who continued to move forward despite the pain.
At the age of 19, my mother took on the responsibility of raising my sister Lilliana, right from birth, as her sister, Adonia, was not able to care for her. At age 25, she became a widow with five young children to raise by herself. During those struggling years, she began sewing by hand for the needlework industry, which at the time really took advantage and exploited the poor and those in need in Puerto Rico.
To put this in perspective, the needlework industry consisted principally of hand sewing operations performed by women in their homes on material supplied by manufacturers and jobbers from the mainland, USA. She hand-sewed gloves, handkerchiefs, and Playtex bras. Home needlework was an industry "without any foundation except misery. It could exist only on desperation wages." My mother made 12 cents a day. No one could make a living at it; but a woman whose husband was sick and then passed away and whose children needed to be fed will go to great lengths for the price of a few pounds of rice.
In 1948, she met my father who pursued her relentlessly. They married in 1950, the year I was born and migrated to Chicago in 1953. All of this took great courage, as she could not bring all her children at once, and had to send for them gradually once they had saved enough money for airfare. Mom immediately got a job. She got paid 68 cents an hour. She had a strong work ethic. To her, work = joy = accomplishments = appreciation = gratitude. Later she got a job that had a union. She was proud to be a blue collar, union member factory worker and rarely missed a day of work. She retired as a drill press operator from Bally Manufacturing in 1982.
My mother had a striking beauty that showed in the way she carried herself– gracefully, proudly, and with such sassiness (as her granddaughters would say). She had amazing grace. She had a delightful soul, an infectious laugh, and a vibrant personality. I have never known a more positive person. She had a way of focusing on someone with total attention. It was a gift of herself that she gave to others. She reveled in our accomplishments, hurt with our sorrows, and felt sheer joy and delight in spending time with us.
Vuelvo y repito–Mi madre era impresionante! She didn't make a big deal out of things; she just did all the big things that needed to be done. For example, she worked overtime for a year to pay for my wedding, bought cribs for all her first-born grandchildren, wedding dresses for her granddaughters, took care of my niece Nina for her first 6 months of life, my niece Thelma was born in our home, and my nephew Johnny was almost born in her hands (thankfully the ambulance arrived). She devoted herself to her grandchildren, Cookie and Ruben when they were little to help my brother, Porfy. She helped raise my son Kevin "con estas manos" as she would say, taught him how to crawl and even how to whistle! She helped him become the person he is today.
Although she only went to the 5th grade, she had a passion for books and reading and she loved to repeatedly tell me that the children who studied in her hometown would ask her to read their assignments and then interpret them. She delighted in this as it gave her access to books.
During my own childhood, I always remember her with a book in hand and every month we went to the records/books/magazines store on Division and Rockwell to buy her monthly Vanidades magazine and her romantic novelas by Corrin Tellado and similar authors.
But it wasn't until I was 25 that I realized how well read my mother was. One day, I invited her to go see the movie Gone with the Wind. And she said, "Yes, I would love to see Lo Que El Viento Se LLevó. My reaction was, "What? How do you know the name in Spanish?" to which she replied, "because I read the book" (the translated version of the novel by Margaret Mitchell). She also told me that she had read The Three Musketeers, but Alexandre Dumas, and other great classics. I had newfound admiration for her! Later, when she moved in with me after my father's death, I made weekly trips to the public library for her and along with Marta (my sister-in law) and Cookie (her granddaughter), we gave her books in Spanish for her birthday, Mother's Day, Christmas, and for no-occasions in-between. She read Gabriel García Márquez, Isabel Allende, Mario Vargas LLosa, Carlos Fuentes, among others, and even American authors like Nicolas Sparks, John Grisham, and Stephen King. She also had me subscribe to Vanidades, Cosmopolitan and People en español.
Along with her ardor and passion for reading, she loved to go to the movies (to the Spanish theaters, like El Tampico, Teatro San Juan), and watch novelas. She loved certain famous people like Thalia, Lucero, Gloria Trevi, Princess Diana, Princess Carolyn, John Kennedy Jr., Elizabeth Taylor, Jaqueline Kennedy, and Elvis Presely and followed their life stories with the devotion of a true fan.
Mom loved nothing more than to be surrounded by her family-children, grandchildren, great grandchildren, and friends. Sunday afternoon family dinners were a must and she always cooked more than she needed to-just in case anyone unexpectedly stopped by. Everyone was always welcomed.
One thing all selfless people have in common is the great capacity to love others and express it. My mother was filled with the Power of Love, and she expressed it through hugs, affection, encouragement, belief, and most importantly through her actions.
Our family referred to her as our Queen, for she loved us all so deeply, and we felt it. We felt it. (The last time I counted there are at least 108 of us). She gave individual attention to each one of her grandchildren, making them feel they were her favorite. She had many friends of all ages — young and old. Best friends like Carmín, Patria, Angie, and Santa, whom she went to the movies with and to Felipe Rodríguez concerts when he came to Chicago. All my friends were like her own–Pat, Gloria, Irene, José. She had elderly, disabled, and male friends. (Radame, his mother, Don Paco, her neighbors in Puerto Rico). After she retired, she would always send cards to her friends and put a ten or twenty-dollar bill in them.
My mother was my everything. When I achieved anything, she would tell the whole world. When I was in grammar school, I always turned in my report card late because she first had to take it to the factory to show her co-workers. She was immensely proud. If I had to conjure up one life lesson that she would want me to carry for the rest of my life, it is this: always trust yourself. She believed in me, and she believed that I always would do what was best.
Her life experiences gave her wisdom, which she shared with the many who confided in her (she was discrete and inspired trust). She was always looking through the eyes of love—that is how she always saw me and that is always how she saw you.
She loved God, had tremendous faith and now she is with him.
Thank you.