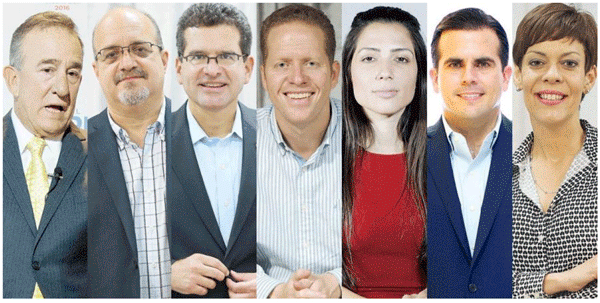 translation by L. Alejandro Molina
Gubernatorial candidates for the various political parties in Puerto Rico, as well as the independent candidates, united to call on the president of the United States, Barack Obama, to release political prisoner Oscar López Rivera, who
tomorrow
– Three Kings Day – marks his 73rd birthday.
Manuel Cidre (independent), Alexandra Lágaro (independent), David Bernier (PPD), Pedro Pierluisi (PNP), Ricardo Rosselló (PNP), Marí­a de Lourdes Santiago (PIP) and Rafael Bernabe (PPT), joined their voices in a video produced by the not-for-profit film corporation Caserí­o Films, to send a direct message to Obama, and in English.
The video was filmed yesterday at the Ateneo Puertorriqueño by filmmaker Tito Román Rivera, with the help of Alvin Couto and Karla Victoria Pesquera.
"We did it as part of the campaign for the release of Oscar López, which we hope will get stronger this year before Obama leaves office. It's a way to show that this is a call by the people in a unitary act that transcends the political question. It has become a matter of human rights" explained Román Rivera.
"We know that Obama has the power. That with a single piece of paper he could sign and grant Oscar's release. If he's pardoned several criminals and the Cuban political prisoners, we don't understand why he hasn't yet taken the time to release Oscar when his release has become a call throughout the world," added the director of the documentary 'El Antillano.'"
Román Rivera emphasized that all the candidates were willing to take part in the video and had no qualms with the proposed message.
"Each one gave it his/her own color, form, but came out well. Some had commitments which prevented them from showing up, like Pierluisi, who was out of the country, but they did what they could with their cell phones. They all cooperated, were very accessible, and delivered a message of unity," the producer explained.
According to the filmmaker, this act demonstrates that politicians can transcend party lines and unite with a will to achieve an objective.
"It's a cause for hope for us as a people and that is precisely what Oscar represents," he noted.
In the video the candidates appear interspersed, saying the following message:
"Today I want to urge president Barack Obama to consider the case of the political prisoner Oscar López Rivera. Oscar has been serving a sentence for the last 34 years in federal prison in the United States. Longer than that other patriot Nelson Mandela, whose freedom you once vehemently demanded. I want to add my voice to the thousands of people in Puerto Rico who are asking you, president Obama, to liberate Oscar López Rivera. We are sure that he will abide by the law and be able to share with his loved ones during the rest of his life. The people of Puerto Rico have clamored for his release by presidential pardon, and we expect you will extend it before Oscar reaches his 73rd birthday on January 6, 2016. I urge president Obama to consider Oscar López' case. While I don't condone his actions, it is the ripe time to take action. Exercise your presidential power to set free Oscar López Rivera. It is time for Oscar to come home. Listen to our voices and liberate Oscar as soon as possible. President Obama, do the right thing. Release Oscar López Rivera. Let justice be finally done. We want Oscar home. We want Oscar home."
The video, which includes no credits for recording, editing or production, ends with a call for people to make their own videos and share them on social media with the hashtag #ObamaFreeOscar