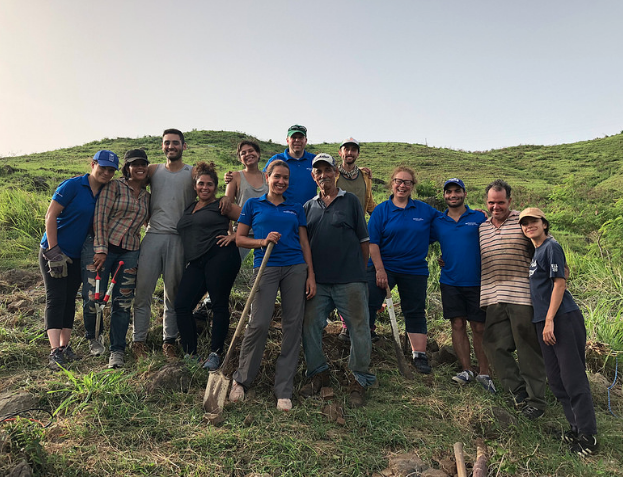 Days pass, while the newsreel continues spouting messages that make us physically ill. Things are happening around us that bring tears to our eyes every hour it seems. No se pregunten si las cosas se pueden poner peores. Buscemos inspiracion juntos.
Recently, I shared space with Oscar López Rivera, a moment I never envisioned, even in my wildest dreams, sharing an entire day with a man that has shaped most Boricua lives from a cage for so many years; a man that along with his comrades has influenced us to understand independence is not free. This gentle, soft spoken man of infinite wisdom and experiences is free to go where he chooses; a reality not afforded to him for decades.
Hence, on July 6, 2018, he chose to spend the day in Loíza, Puerto Rico; one of the earliest settled areas on the island. On this perfectly humid, sun blazed, ocean breezed day I experienced a strength and hope that will shape all that I do for days to come. Enriched with knowledge, it was a blessing to be filled with the witnessing of the people of Loíza healing, rebuilding, and not accepting that their communities, their families under the blue tarps will not be forgotten. They will not be the new norm in Puerto Rico.
During our time in Loíza, Congressman Luis Gutiérrez led us through the town to experience the efforts made to rebuild. We met Rafael Rivera. Rafael was handed the keys to a building that is set to be transitioned into a community center seeking to feed the souls and fill the stomachs of the people of Villa Cañona; a much-needed resource for the most vulnerable of the area. Rafael, giving an action to lead, was handed the keys to the center on September 19, 2017, deeming every day after with action to put this building in action for the people. During our passage into the town, we visited a youth center, currently serving as a place for the youth of Villa Cañona to have access to reliable internet connection, a luxury on the island. The center is equipped with 11 computers, all donated by diaspora support. Young men and women use
the computers free of charge to complete research for homework or simply satisfy their own curiosity.
As we progressed into our day together, we found ourselves in Maria de la Cruz Historical Park. In 2018, the area has transformed into a destination with guides, artisans and musical entertainment celebrating the history of the area. During our tour, we learned about the affects Hurricane Maria had on the bee population that dwelled in the cave. Now, containing only three hives, they exist within an ecosystem fighting to hang on. Rarely highlighted in main stream media, the cave walls show remnants of previous hives, mostly gone with no signs of a return. It's within this ecological site that hope and strength must persevere, where we must nourish.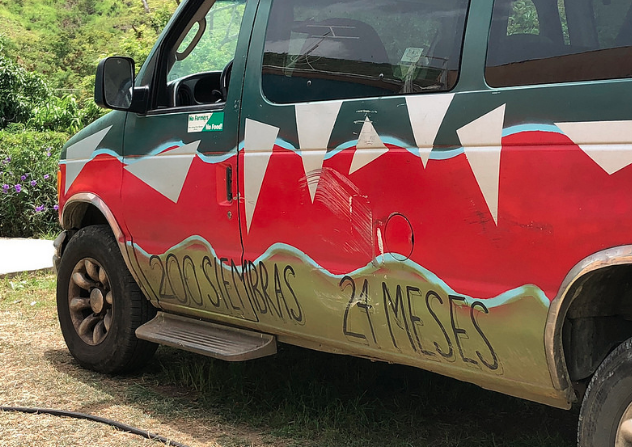 No matter where you live, your faith, political party, if you are in a cage or in the free world — Mi Familia, no se desesperen! Enójense! Dejen que la furia que existe te captive. Pero no se queden en ese momento d
e disgusto. Vamos pa' encima.
Puerto Rico has not been the same since the nearly 7-hour journey Hurricane Maria made on September 20, 2017. The core of every person on the island, and those with ties to the island, has been rocked. Rain pours over residents of the island, daily, blue tarps continue to display the temporary nature of relie
f. Lives under the blue tarps pray for relief from this reality. How do we build a sustainable environment? How do we care for each life under the blue tarps?
We honor our ancestors. We honor the lives in cages. We honor the families that hold it down in the free world. We walk in the footsteps of those that have come before us. We ask the questions that must be answered from our prospective governing leaders, "What is your plan, political candidate, for restoring and repairing Puerto Rico? Our community and the people in the diaspora have not stopped, what will you do?"
Congressman Gutiérrez, we honor your work in Congress and we look forward to the day that you leave the halls of Congress. You brought Oscar López home. You delivered him to his daughter. As you leave Washington, DC and move to Puerto Rico, we ask you to live your true Boricua truth. Let's harvest the sun and breeze. Then and only then will we be truly independent.
Familia, we must lock arms as Oscar did with his comrades. We must live our truth. Rafael, por ahí. vamos, hermano. Esto no se queda así. Join us on September 20, 2018 as we light candles around the world to signify the hope that lives on in the hearts of every Puerto Rican. Those blue tarps are not the new normal, hermanas y hermanos.