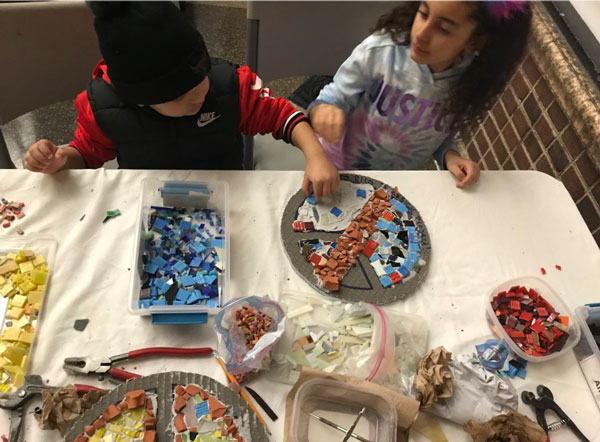 This February, the Chicago Mosaic School will proudly bring a meaningful collaborative project to completion when principal CMS faculty members Sue Giannotti, Sue Coombs, Casey Van Loon, Martha Crandall, and founding executive director Karen Ami will travel to Humacao, Puerto Rico for the installation of 100+ mosaic peace signs designed and assembled by communities in Chicago and Humacao.
The seeds of the project were sown in the fall of 2017, when CMS certification student and Humacao resident Brenda Montanile was in Chicago following a CMS workshop. At home in Puerto Rico, Hurricane Maria had just made landfall on her historic hometown, leaving devastation in its wake. Upon finally returning home, Brenda and her community began the slow process of rebuilding from the ruins, partnering with Elegel Group, a local collective dedicated to graphic and urban arts, to create "Project
Grita". Through the project, local artists and the Humacao community collaborated on over twenty-five large scale murals in tandem with urban renewal and post-disaster rebuilding initiatives. Concerned for the residents of Puerto Rico, we asked, "how can we help?", but until the stunning results of the mural project started to emerge, the answer was unclear.
Inspired by this initiative, Brenda proposed that CMS partner with Coqui Charities to expand the project to public mosaics. Thanks to these organizing efforts and the support of the project's local financial sponsors, the Chicago Mosaic School has been able to contribute our materials, studio time, and expertise to the creation of 100 mosaic peace signs. Each mosaic is entirely unique, demonstrating its maker's individual vision of hope and healing for the city of Humacao. Every single sign features salvaged terra cotta tiles stripped from local Humacao buildings in the storm and repurposed as tesserae. These materials were collected by the city of Humacao and shipped to us with the generous sponsorship of Coqui Charities and private donors including Brenda Montanile.
Along with the participation of the CMS community and our new sister organization, the Bethany Art Center of Ossining, NY, we have been thrilled to enjoy a rich collaboration with the Puerto Rican Cultural Center of Chicago, who co-hosted two studio events with CMS in December so that members of the Puerto Rican community in Chicago can contribute their heartfelt expressions of solidarity with their family, friends, and fellow citizens in Puerto Rico through the creation of one-of-kind art. Mosaicists and Humacao Grita organizers are also helping the local Humacao community to create their own signs to beautify their city and express their vision of renewal.
Upon completion, these diverse communities' art will not be displayed separately from each other, but will be incorporated together in an integrated installation. As Humacao recovers from the aftermath of such a harrowing ordeal, we hope these peace signs not only enrich the visual landscape of the city, but bear witness to an ethic of compassion, solidarity, and support for the victims of environmental disasters, and the healing potential of art. Installation will take place February 8-12 throughout the city of Humacao, Puerto Rico.
By Grace Walsh
Published on The Chicago Mosaic School January 31, 2019