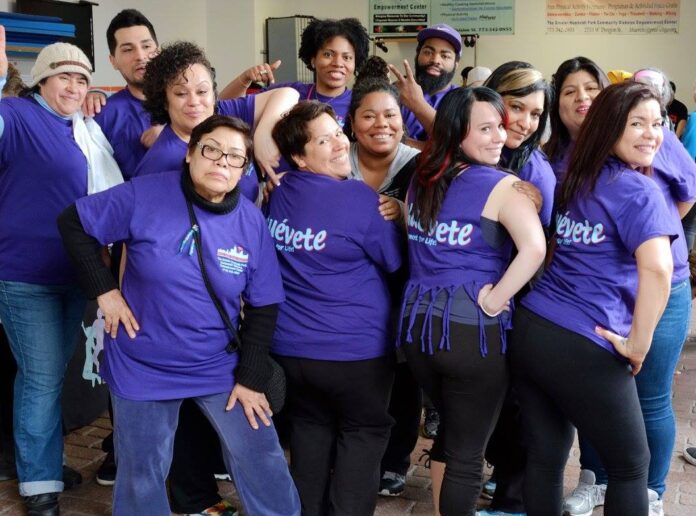 Muévete brings free and attainable physical activity classes to Humboldt Park, West Town, Logan Square, and Avondale. For the past 15 years, it has collaborated with The Puerto Rican Cultural Center (PRCC), the Chicago Park District (CPD), and more than 15 physical activity volunteer instructors to make this happen.
Muévete's beginning comes out of a personal health concern of its founder. She had been battling high blood pressure, high cholesterol, borderline diabetes, and acute joint pains. She began walking Humboldt Park's outskirts as a way to stay active and control her illnesses, which were largely connected to obesity. All this time, she invited people to walk with her. Several did join, and by the fall of 2005 they formed a walking group.
Fall gave way to winter; snow fell and the temperature dropped. Muévete partnered with The Puerto Rican Cultural Center and the Chicago Park District, and the walking group moved indoors into the Humboldt Park Field House. Instead of walking, the group activity changed to dance-aerobics three times a week (after work hours). Coincidentally, The Puerto Rican Cultural Center was working at this time to address Health Disparities within the Puerto Rican community. This was a perfect fit for a community based physical activity program.
In 2009, Muévete built on its successful collaboration with the CPD and extended its programming into Kosciuszko Park with dance aerobics. Volunteer instructors Christina Núñez and Vicky Camacho spearheaded this effort. This programming was in high demand because it was free and took place in a comfortable, non-judgmental environment. By the spring of 2010, Muévete became part of the Gather Humboldt Park Community Diabetes Empowerment Center at 2753 W. Division St. The aims were to complement the Diabetes Center's prevention education and to control diabetes from within the community. This allowed Muévete to offer additional physical activity programming to the community, including Zumba, Yoga, Tai Chi, Pilates, and biking. Finding people to become involved in these physical activity initiatives was easy because the community was in need of an alternative to traditional health clubs, which many found uninviting.
In April of 2011, Muévete established Move for Life! as a warm weather season kick-off to begin the outdoors activities such as the walking and biking groups. This was done in partnership with West Town Bikes.
In 2012, Muévete established the trainings: Muévete 101 and Train the Trainer. These are basic group physical activity trainings for participants who show interest in facilitating classes. This creates leadership opportunities and thus leaders from within our community. It also opened a lane for professionals in the field of physical activity to become volunteers with Muévete.
In August of 2015, Muévete celebrated its 10th anniversary with a 10,000 – Step Community Walk around Humboldt Park. It partnered with Norwegian American Hospital and gave participants t-shirts and duffle bags for completing the 10,000 steps.
During the last 15 years, Muévete has had more than 35 physical activity volunteer instructors in the areas of Dance-aerobics, Zumba, Pilates, Yoga, Tai Chi, Walking Group, Biking groups, High Intensity Interval Training, and Strength Training. Muévete has served more than 7,000 participants from all over Chicago and, as a direct result of Muévete, the creator has lost more than 80 lbs and has eliminated all her borderline illnesses, keeping them at bay.
Currently Muévete has 15 Physical Activity Instructors with 10 being the core of the program. 18 classes take place Monday thru Friday at three different locations and five distinct types of physical activity: Dance-Aerobics, Zumba, Pilates, Tai Chi and Yoga.
For Muévete's quinceñera, we would like to acknowledge our instructors for their dedication and time in providing the community with much needed physical activity.
• Zumba; Lisa González, Carmen Rivera, Karen Gasiamis, Michelle Díaz, Gloria Hernández, Rosa Ortíz, A. Iris Díaz, Vicky Casas and Melva Flores.
• Dance-aerobics; Sofía Flores, Cristina Núñez and Ángeles García.
• Yoga: Vivian Prapuolenis and Migdalia Galarza.
• Pilates: Beatriz Navarro
• Tai Chi: Martín Romero
During the COVID-19 Pandemic, we have retooled our physical activity classes to keep our community safe. Some classes are taking place outdoors, while others are online. Once the city moves to Phase 4 of the reopening post COVID-19 plan, we will resume our regular schedule. In the meantime stay active, but more importantly stay safe. Muevete@prcc-chgo.org, (773)236-2698.
By Leony Calderón
Coordinator of the Muévete physical activity program