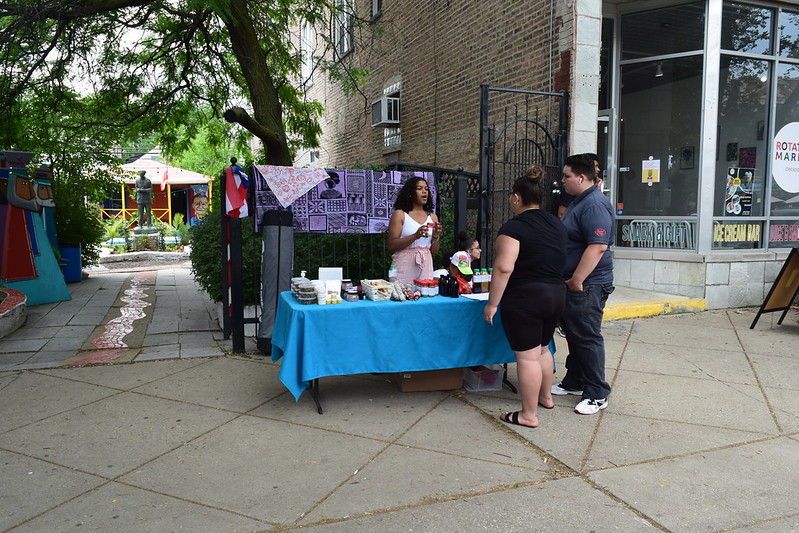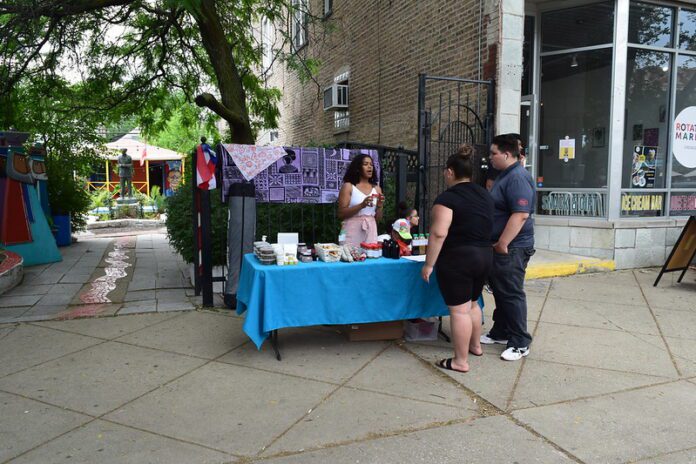 During this year of the COVID-19 pandemic, The Puerto Rican Cultural Center's (PRCC) Business Initiatives program has played a critical role in the preservation of Paseo Boricua's economic vitality and joyful spirit. These programs and initiatives work closely with the Division Street Business Development Association (DSBDA), and are the continuation of work that The PRCC began more than 40 years ago.
In 2019, PRCC established the Neighborhood Business Development Center (NBDC) with the support of the City of Chicago's Business Affairs and Consumer Protection Dept. At the same time it created the "¡WEPA! Community Pop Up", — an initiative created to support local artisans and makers. The initiative is also designed to be a platform for up and coming entrepreneurs who avail themselves of NBDC's free business advising and counseling sessions.
In January 2020, PRCC received approval to establish an Illinois Small Business Development Center (SBDC), which is funded in part by a cooperative agreement among the U.S. Small Businesses Adminitration (SBA), Illinois Department of Commerce and Economic Opportunity, and The Puerto Rican Cultural Center. This Center began to operate at full capacity in May when Carlos Bosques was brought on board to assume the role of SBDC Director.
During the first months of the pandemic, PRCC's Business Programs provided assistance to small businesses, contractors, and self-employed individuals so they could navigate the COVID-19 resources available to them. We apprised them of SBA low interest loans, disaster loans, City of Chicago grants and funding opportunities, as well as other resources made available by private corporations such as Facebook, Verizon, and others.
After months of observing stay at home mandates, we finally re-opened the Paseo Boricua ¡WEPA! Community Pop Up in June. This brought great cheer to Division Street during the Virtual Puerto Rican People's Parade. Our staff saw the possibilities and we decided to increase the frequency of ¡WEPA! from once a month to every Saturday. Local vendors were eager to return to the streets and offer their products and creations. We now offer the ¡WEPA! Market every Saturday, from 11 am to 5 pm. Moreover, we added a monthly ¡WEPA! Raffle of products donated by WEPEROS. Currently, we do not charge a fee for vendors to participate in our ¡WEPA! event. Our mission is to promote entrepreneurship and offer a space for local vendors to "test the waters" and encourage them to register their own businesses.
In August we were invited, for the second year, to represent Humboldt Park at the Navy Pier Artisan Market. This time vendors were situated outside, at the entrance of Navy Pier, and under the shade of large trees. The weekend was absolutely gorgeous and we were blessed with great weather. Although the Humboldt Park vendors were limited to only a few, for purposes of social distancing, they sold $2,300 of their products.
Our goal is to continue creating opportunities for entrepreneurs and artisans to develop a side business, which would eventually become a brick and mortar store or an online shop. The process does require some sacrifices, as all entrepreneurs need to develop business skills to run their companies in an efficient manner. This is the objective of NBDC and SBDC — providing resources, training, and advising for small businesses to prosper in our community.
We provide monthly webinars about different business topics, ranging from how to open a business in Illinois, to how to do marketing, and how to keep your finances in order. In September, we will offer a 12-week online class in partnership with Sunshine Enterprises, a non profit organization that has been providing training in Chicago for the past six years. Our course will be the first one the organization provides in Spanish. We are eager to have our Humboldt Park entrepreneurs, small business owners, and those who simply have an idea for a business to join us in this adventure of learning the tools that will help you succeed in your current or future business. For more information please visit:
https://www.sunshineenterprises.com/infosessions or get in touch Nadya Henríquez at nadyah@prcc-chgo.org.
By: Nadya Henríquez, La Voz del Paseo Boricua