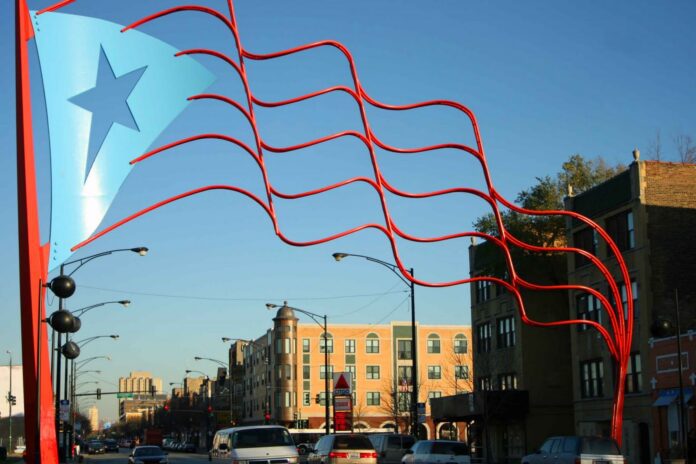 On May 30, 2021, Chicago's Mayor Lori Lightfoot announced the grantees of the first round of the Chicago Alfresco Program, a new initiative from the city to foster more neighborhood tourism. The program aims to revitalize and ignite neighborhoods through the use of innovative and appealing placemaking areas for outdoor dining, public life, community, arts, culture, and walking, that showcase not only excellence in design but also in art.
The Puerto Rican Cultural Center (PRCC) was among 15 community organizations that were selected to receive up to $250,000 to develop Chicago Alfresco in their communities. The program is under the Chicago Department of Transportation (CDOT) jurisdiction and is sponsored by Choose Chicago with generous financial support from Diageo North America.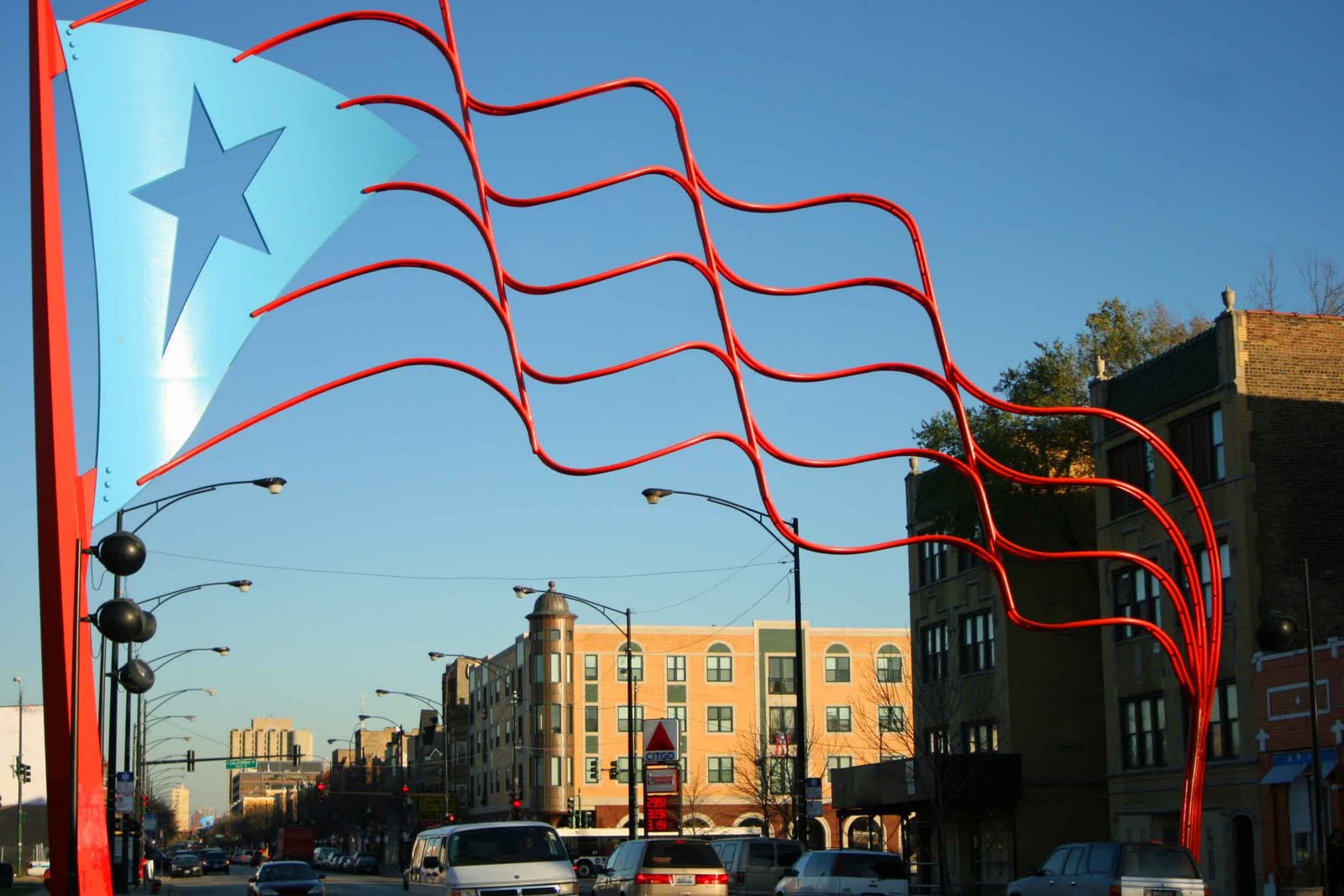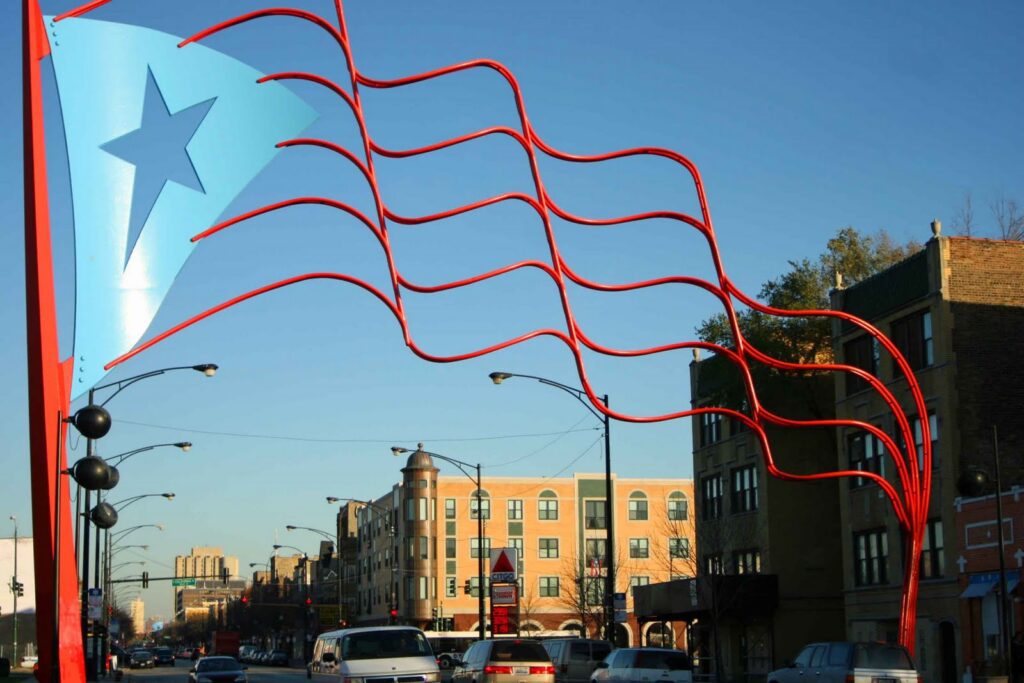 "Though this award, the City is acknowledging, not only what is already part of the character of Paseo Boricua, like the two giant Puerto Rican Steel Flags, the Paseo Boricua Music Hall of Fame, the wrought iron light post designs with Puerto Rican elements, and the colorful murals that decorate many buildings on Division St., but also the work of organizations like The PRCC, Division Street Business Development Association (DSBDA), the Puerto Rican Agenda (PRA), The National Museum of Puerto Rican Arts and Culture (NMPRC), as well as the work of former Alderman Billy Ocasio and current Alderman Roberto Maldonado", who for nearly 50 years have contributed to the economic development and cultural preservation of the Puerto Rican community in Humboldt Park" said José López, Executive Director of PRCC.
The Chicago Alfresco Program, which is expected to start in the summer, includes programming of activities that will bring life to the multi-purpose wood structures, which will be installed on the sidewalks of Paseo Boricua.
STLArchitects and Studio ARC were the architect firms selected to conceptualize the "Paseo Boricua Village", on Division St. between Western and California, and they were thrilled to be part of this "beautiful initiative", said Luis Collado, Principal at STLArchitects.
Community artists were included as part of this Alfresco proposal, to connect both sides of the street with colorful and extraordinary pavement murals for the enjoyment of pedestrians and motorists entering the corridor. Artists Sam Kirk, Raúl Bonilla, Josué Pellot and Lead Artist Cristian Roldán comprise the art team that will turn Division Street into a driving art exhibit.
The Chicago Alfresco Program will pave the way for the development of Puerto Rico Town as a cultural sanctuary district, a resolution that was recently approved by the Illinois General Assembly to protect the cultural heritage of neighborhoods in Chicago and Illinois.
Program activities will be coordinated and scheduled by The PRCC in conjunction with local businesses and interested parties. If you would like to learn more about the Chicago Alfresco Program in Humboldt Park please contact Nadya Henríquez at nadyah@prcc-chgo.org or 773-217-0676.
El pasado 30 de mayo de 2021, Lori Lightfoot, Alcaldesa de Chicago, anunció a los beneficiarios de la primera ronda del Programa Alfresco. Dicho programa es una iniciativa innovadora con la meta de promover el turismo en los barrios. El objetivo es fomentar el turismo en el barrio mediante el uso de áreas comunes mediante la creación de espacios atractivos y vanguardistas. Las áreas públicas albergarán eventos culturales, espacios artísticos y cenas al aire libre, revitalizando así la vida en la comunidad. Se crearán una serie de estructuras arquitectónicas de madera que exhibirán su excelencia en su diseño artístico.
El Centro Cultural Puertoriqueño (PRCC) fue una de las quince organizaciones comunitarias seleccionadas por Chicago Alfresco para recibir $250,000. El programa, bajo la jurisdicción del Departamento de Transportación de Chicago (CDOT), ha sido generosamente patrocinado por Choose Chicago y Diageo North America.
"A través de este premio la ciudad está reconociendo, no solamente lo que ya es parte de la personalidad de Paseo Boricua, como las dos banderas gigantes de acero de Puerto Rico, el Salón Paseo Boricua de la Fama de la Música, los diseños de hierro forjado con elementos puertorriqueños y los coloridos murales que decoran muchos de los edificios en la calle División, sino que también el trabajo de las organizaciones como PRCC, La Asociación de Desarrollo de Negocios de Division Street (DSBDA por sus siglas en inglés), la Agenda Puertorriqueña (PRA), el Museo Nacional de Arte y Cultura Puertorriqueña (NMPRC), tanto como el trabajo del ex-concejal Billy Ocasio y el concejal actual Roberto Maldonado," "quien por casi 50 años han contribuido al desarrollo económico y la preservación cultural de la comunidad puertorriqueña en Humboldt Park," dijo José López, Director Ejecutivo de PRCC.
El programa Chicago Alfresco, que se espera comience en el verano, incluirá la programación de actividades que darán vida a las estructuras arquitectónicas que se instalarán en las aceras del Paseo Boricua. STLAtchitects y Studio ARC, fueron las firmas arquitectas seleccionadas para conceptualizar el "Pueblo Paseo Boricua ," en la calle División entre las avenidas Western y California, y están encantados de ser parte de esta "hermosa iniciativa," según Luis Collado, director de STLArchitects.
Artistas comunitarios formarán parte de esta propuesta, para conectar ambos lados de la calle con murales coloridos en el pavimento para el disfrute de los peatones y conductores de automóviles que ingresan al corredor. Los artistas convertirán la calle División en una exhibición de arte de conducción.
El Programa Alfresco de Chicago pavimentará el camino para el desarrollo del "Municipio Puerto Rico" como un distrito y santuario cultural, resolución que fue aprobada recientemente por la Asamblea General de Illinois para proteger el patrimonio cultural de los vecindarios de Chicago e Illinois.
Las actividades del programa serán coordinadas y programadas por El PRCC en conjunto con los negocios locales y las partes interesadas. Si desean obtener más información sobre el programa Alfresco de Chicago en Humboldt Park, comuníquese con Nadya Henríquez en nadyah@prcc-chgo.org o 773-217-0676.