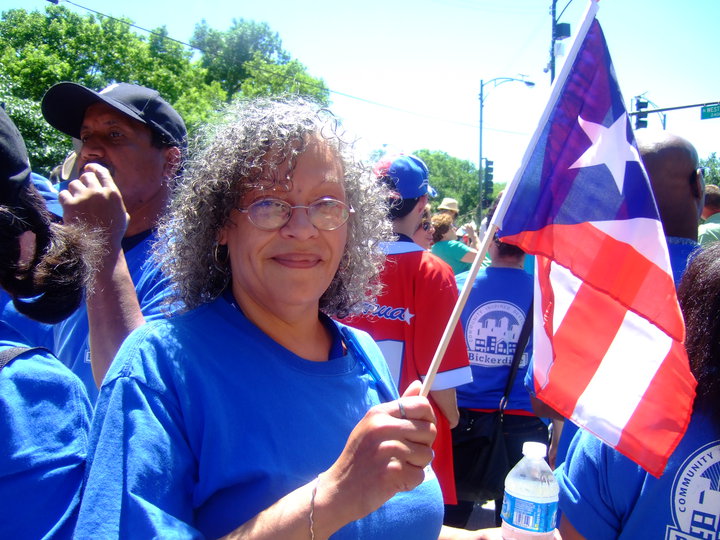 October 12, 2021
By Maria Ortiz
I met Maria Romero, my "tocaya" (namesake) sometime in 1997. She was employed at Bickerdike Redevelopment Corporation, and I had been asked to join the Bickerdike Affordable Housing Committee — formerly Erie Coop. Maria and I clicked right away. We were both against the rapid gentrification happening all around us. Maria was a victim of gentrification too many times, beginning in Lincoln Park. She had been a member of the Young Lords organization, which had fought for human rights and social justice in the Puerto Rican Community of Chicago. We both believed in independence for Puerto Rico. I was a volunteer with the affordable housing committee until I moved back to Puerto Rico in 2003, but we always kept in touch.
When I visited Chicago, we always managed to see each other. In 2010, I happened to be in Chicago when Carlos Alberto Torres was released from prison after having served 30 years. Alejandro Molina arranged for Maria and me to ride with Peter and his wife to Marion Prison to pick up Carlos Alberto. We hugged and cried with happiness when Carlos Alberto stepped out of the van.
Maria was an immensely compassionate and giving person. She often sent money to contribute to the volunteer work my church was doing with the homeless addicts. After Hurricane Maria, she also sent contributions to help our mission at my church. We always talked about her coming back home to Puerto Rico. That conversation never failed whether in person or on the phone.
When her sister Yolanda needed her, Maria postponed her trip. The last time I saw Maria was the day Oscar López Rivera went to Chicago after he was released from 36 years of incarceration. We met at Café Colao, where she got to meet Oscar and
take a picture with him. On that day, I met her sister Yolanda who had learned to walk with her four prostheses. Sadly, Maria and her sister were both diagnosed with lung cancer. Maria's sister passed away a few months ago. Again Maria and I talked about her coming home to Puerto Rico after she finished her treatment. She never made it. Maria passed away last Sunday Oct 10. Her children will be bringing her ashes to Puerto Rico in the near future. I will be here to welcome her and her family.