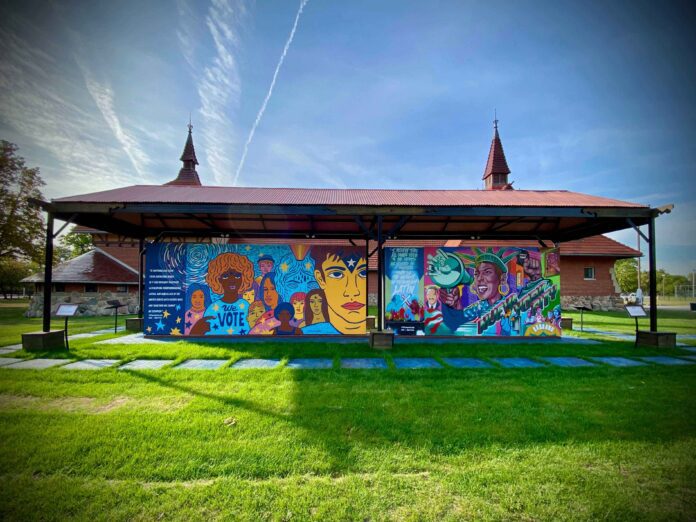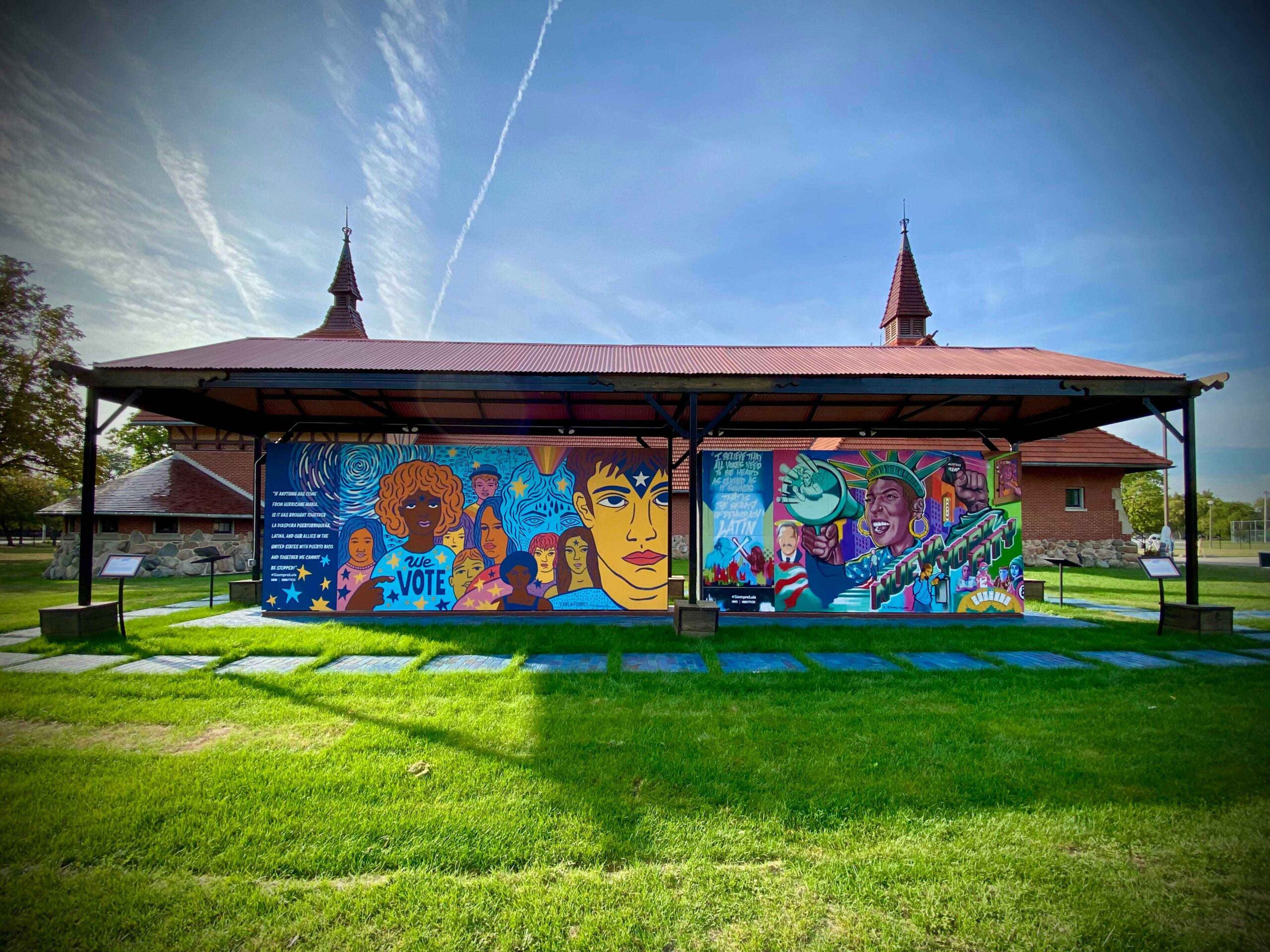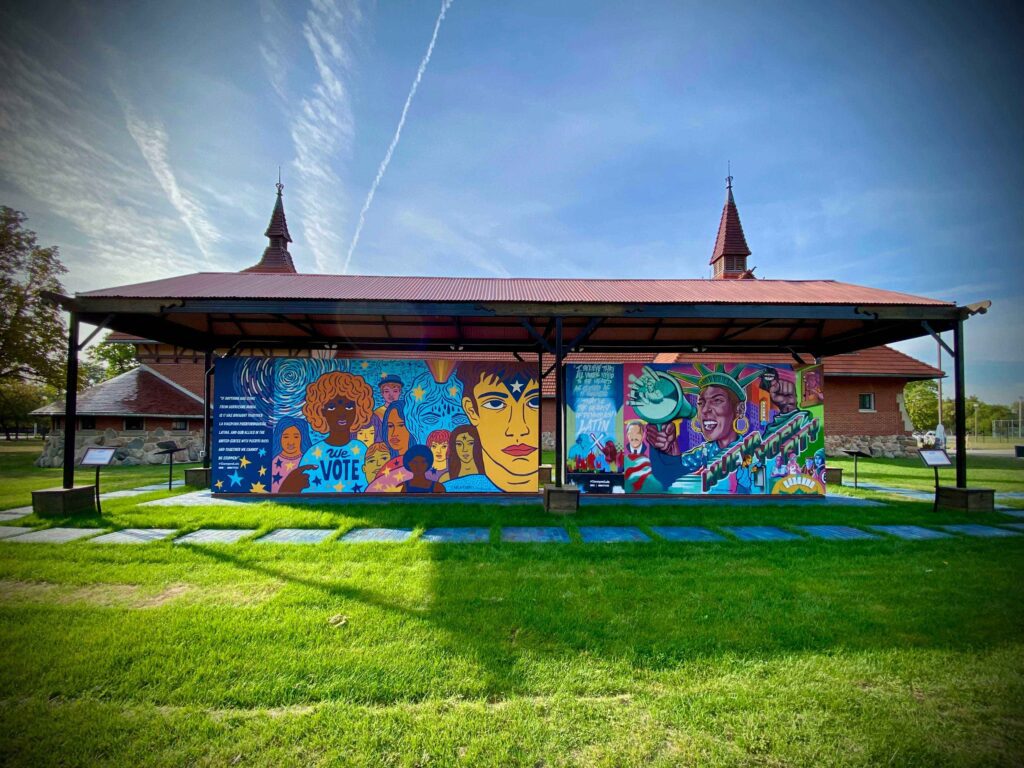 By Alyssa Corrigan
The National Museum of Puerto Rican Arts & Culture (NMPRAC) made history last month when it hosted its first nationwide conference — Engage 2021: Envisioning a National Puerto Rican Arts and Culture Diasporic Agenda. The purpose of the national conference was to bring Puerto Rican institutions together, recognize our collective existence, and figure out ways we can support each other. To do so, NMPRAC invited representatives from small Puerto Rican organizations in more than 20 cities across the country. Hosted in partnership with El Centro, Center for Puerto Rican Studies at Hunter College, and The Alliance of Puerto Rican Museums, the event included educational lectures and workshops, authentic Puerto Rican food and music, and other artistic programming.
NMPRAC gathered experienced professionals working for Puerto Rican arts and culture organizations and artists throughout the Diaspora to present seven workshop sessions during the two-day conference. Laura Lott, President of The American Alliance of Museums, kicked off the conference with a special message for our guests. Lonnie Bunch, Secretary of the Smithsonian Museums, also addressed the attendees at the opening. Other speakers included Marianne Ramírez, President of The American Alliance of Museums and the Museum of Contemporary Art of Puerto Rico; senior staff from El Centro at Hunter College/CUNY, Dr. Jorge Rodríguez Beruff of Fundación Luis Muñoz Marín, and from the following Foundations: Hispanic Federation, Chicago Community Trust, Flamboyán, MacArthur, National Association of Latino Arts and Cultures, among many others. We also invited Puerto Rican artists and three award-winning Puerto Rican authors to speak, including Esmeralda Santiago, Marisel Vera, and Carmelo Esterrich.
Focusing on resources we believe to be of most value in helping our institutions sustain themselves and grow into their full potential, discussions included the following topics:
Focusing on the most valuable resources that help our institutions sustain themselves and grow to their full potential, our discussions included the following topics:
Collaborating with Puerto Rican Museums and Artists on the Island
Using El Centro for Puerto Rican Studies' Resources for Educational Programming
Archiving and Collections: What's Important?
Engaging the Literary Arts
Engaging Arts & Culture Foundations
Partnering with Your Local Artists
Formulating a Diasporic Puerto Rican Arts & Culture Agenda
During the conference, guests enjoyed food from Nellie's Restaurant, Janellie's Kitchen and pastries from Chucherias Tropical Creations, as well as musical performances by Frank's People, Grupo Renz, and Pianist Isabella Loreano. For artistic programming, NMPRAC unveiled its new outdoor Miranda Mural Gallery with a new initiative donated to the Museum, titled, Latinx Diaspora: Stories from Upper Manhattan. The mural project celebrates the rich and complex history of the Latinx community in Washington Heights, N.Y. and is based on quotes made by Luis Miranda and sponsored by HBO and Warner Bros. Created by New York-based Puerto Rican artists, Carlos Jesus Martinez Dominguez, Dister Rondon, Danny Peguero and Carla Torres, the gallery includes sounds of the coqui, lighting, and blue cobblestone pavement to resemble the streets of Old San Juan.
On the last day of the conference, NMPRAC presented a screening of the award-winning documentary film, Takeover, directed by Emma Francis-Snyder, who was also in attendance. After the film, Luis Miranda moderated a panel with Snyder and Young Lord, Juan Gonzalez to discuss the making of the film, which highlights the takeover of New York's Lincoln Memorial Hospital in 1970 to demand better health services and a new hospital. Engage 2021 ended with a Piña Colada Tour of Paseo Boricua, led by Humboldt Park resident and tour guide, Eduardo Arocho, and the Raices Gala in the evening, a signature event for NMPRAC, helping to raise funds needed to continue thriving as a cultural and economic anchor to our Humboldt Park community.
Celebrating NMPRAC's 20th Year Anniversary and the 25th of The Banderas and Paseo Boricua, the 8th Annual Raices Gala turned out to be the most successful fundraiser and gala yet. Held at Galleria Marchetti, the 2021 gala was hosted by Zoraida Sambolin from Channel NBC 5 and included bomba performances by AfriCaribe, Los Pleneros de Don Segundo,Youth Singer and Pianist Mia and Isabella Loreano, and Opera Singer Zulimar Lopez Hernandez. Keeping tradition, NMPRAC honored three Puerto Ricans for their creative contributions to our culture and support of Puerto Rican communities with our prestigious Ceiba Award: the only national award granted to Puerto Ricans for their artistic and cultural accomplishments. Custom-made by Puerto Rican sculptor, Enrique Ortiz Matos, the 2021 Ceiba Awards went to Dr. Carmen Febo San Miguel of Philadelphia's Taller Puertorriqueño and Luis Miranda Jr. and Dr. Luz Towns-Miranda, for their commitment and dedication to Puerto Ricans across the world. Ending the night with the amazing sounds of Project Caribe.
NMPRAC has received very positive feedback from our diaspora brother and sister organizations who are looking forward to next year's events. As the only Puerto Rican Museum in the country, NMPRAC is ready to continue the work of supporting our fellow Puerto Rican organizations and artists and create a network that will help all of us sustain ourselves and get to the next level. This is only the beginning.