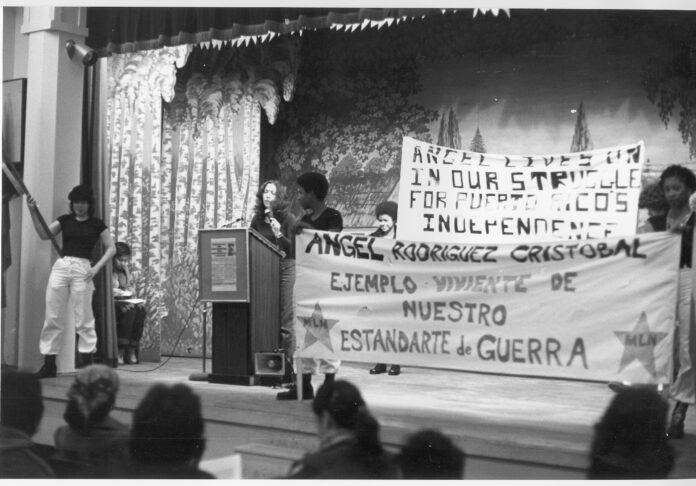 Angel Rodríguez Cristobal, a leader of the Puerto Rican Socialist League, was murdered by the U.S. Government for defending the territorial integrity of Vieques as part of Puerto Rico. He was arrested in Vieques on May 21, 1979, with 20 other activists and, after trial proceedings, was transferred to Tallahassee Federal Prison, where he was brutally murdered Sunday, November 11, 1979. Among the speakers were Mara Siegal, one of the lawyers for the Peoples Law Office; Myrna Salgado, one of the founders of the Rafael Cancel Miranda Puerto Rican High School High School; Michael Novick, a member of Prairie Fire Organizing Committee and Khalil, a member of the Palestinian community offering their solidarity, along with left to right: Alicia Cruz, Roberto Cruz (foreground holding the banner) and Evelyn Cruz, all students at the Dr. Pedro Albizu Campos Puerto Rican High School. The Cruz' brother Rafael was killed along with Julio Osorio during the 1977 Fiestas Patronales in Humboldt Park. The killings sparked the 1977 Humboldt Park riots.
View a slideshow of the event here.
View a short video of Angel's funeral procession;
Consuelo Lee Corretjer wrote "A Red Star for Angel", a poem dedicated to Angel:
Red-Star-for-Angel

The New Movement in Solidarity with Puerto Rican Independence and Socialism dedicated it's Jan-Feb 1980 Bulletin to Angel. You can read it here.
New-Movement-Bulletin.JanFeb.1980