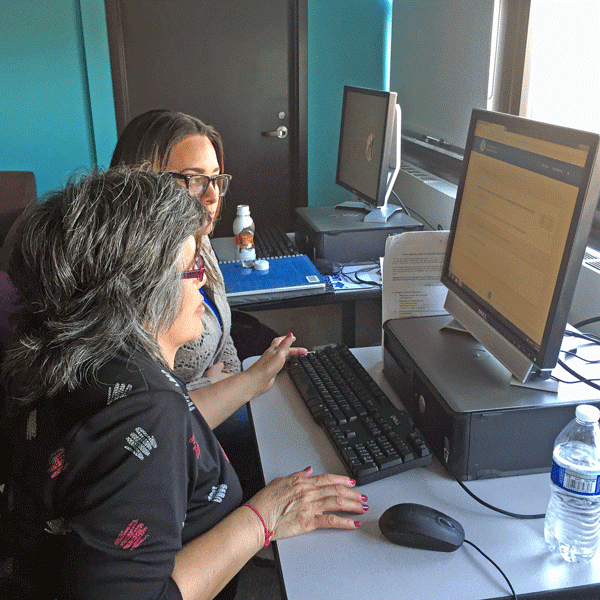 Article and photograph by Michael Kurshan-Emmer
This year Glenda Guzman began working for the Puerto Rican Cultural Center's Safe Passage Community Watch (SPCW) program at Chopin Elementary as team lead. She had previously worked Safe Passage at Chopin but as Chopin's Safe Passage program fell under the umbrella of PRCC this year, Glenda made the transition along with some of the other previous staff at Chopin. From her first day it was clear that Glenda is someone who goes above and beyond in her efforts to get to know the children and parents on her route, in order to provide the safest, most friendly safe passage route imaginable, and to provide the most caring, compassionate, and encouraging work place environment for the SPCW staff at Chopin. The skills Glenda Guzman brings to the table are not something that can be taught or learned quickly, but something gathered over a lifetime of experiences that she brought with her from her hometown of Salinas in Puerto Rico, and puts into use everyday here in Chicago. She is a walking example of how although learning is systematized and organized in the halls of schools, true learning is all around us and occurs solely through lived experience.
In addition to the amazing job she does with the families at Chopin Elementary, Glenda Guzman has taken on a role organizing families in the community around the upcoming local school council elections. The role of the LSC has become more and more important as gentrification and displacement threaten the very fabric of the Puerto Rican community in Humboldt Park. This includes the displacement of Black and Latino students from the schools that this very community, through hard work and organizing, turned around and built up over the years. Not an easy task, this young wife and mother from Salinas has excelled at organizing parents to participate and represent their schools in order for families in Humboldt Park and the surrounding areas to have a voice for positive development in their neighborhood schools. Glenda Guzman herself is running as community representative for the LSC at Chopin so if you see her name on the ballot there, cast your vote for her!
As a participant in the Community As A Campus (CAAC) initiative in Humboldt Park, Glenda has been an active participant in the Parent Popular Education Institute, one of the three institutes set out in the CAAC's five-year plan. Her role has included outreach and recruitment of parents in the community as well as directly working with parents, tutoring in computer literacy at Clemente Community Academy's Parent University. Ms. Guzman's energy is contagious as she truly exemplifies the spirit of self-actualization in real world terms, while selflessly and modestly helping all those who she comes into contact with on a daily basis. Those who know her would tell you that she truly puts into practice the motto of the PRCC, as she lives and helps others to live.